coconut milk and Greek yoghurt panna cotta caramel recipe
Written by:

Sarah Raven

Last updated: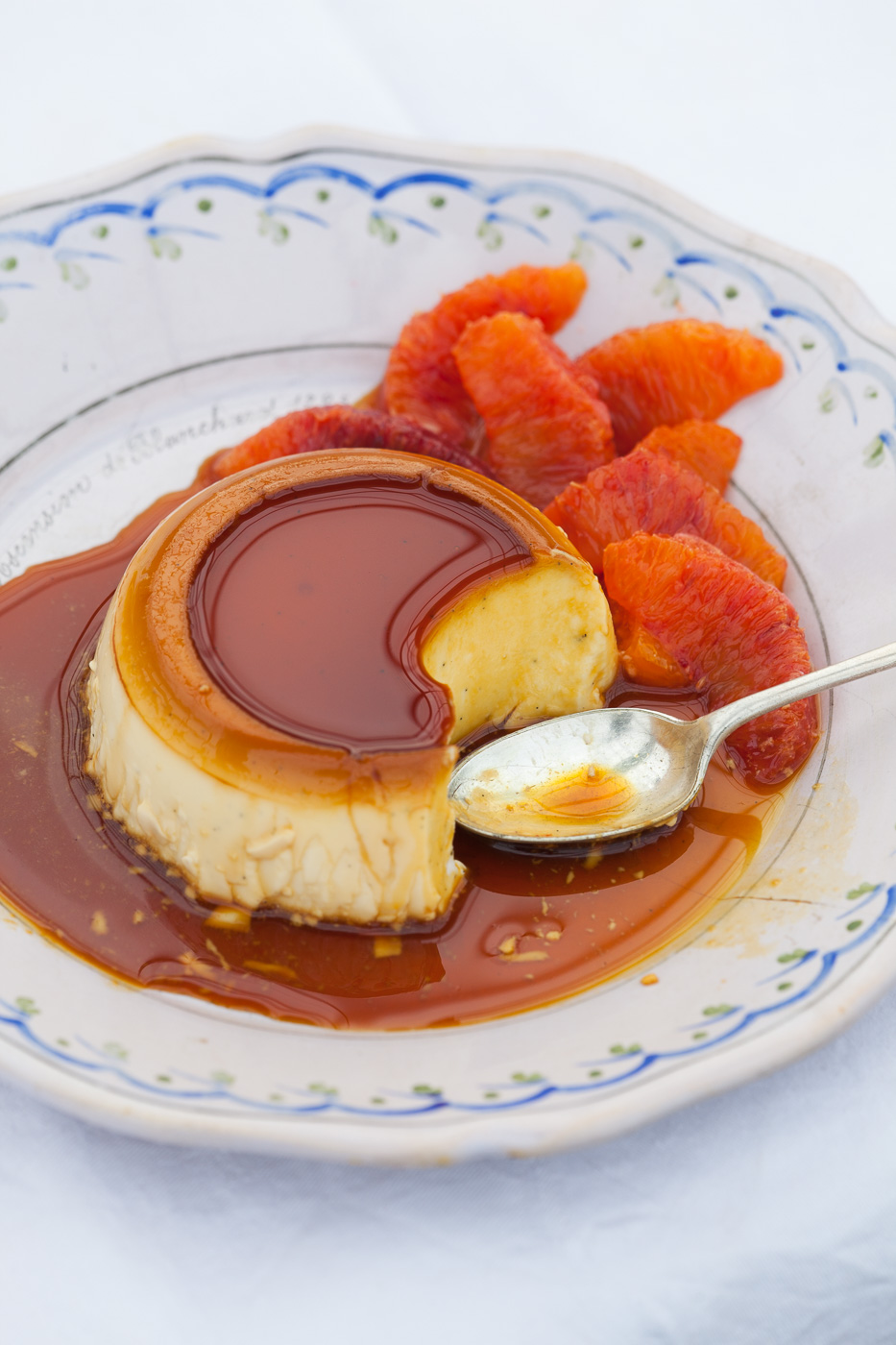 A low fat panna cotta, using yoghurt and coconut milk instead of cream. Make this the day before, so the caramel is absorbed into the panna cotta overnight and serve with super-healthy, super-tasty blood orange segments.
serves 6
For the panna cotta
400ml natural Greek yoghurt
400ml tin coconut milk
2 tablespoons golden caster sugar
1 teaspoon vanilla extract
1 vanilla pod
4 sheets of gelatine (20g leaves)
For the caramel
140g golden caster sugar
5 tablespoons water
Fruit
4 blood oranges, divided into de-pithed segments (see below)
Start by making the caramel, put the sugar and water into a heavy based saucepan over a low heat. Stir slowly until the sugar has dissolved, then allow the syrup to boil without stirring.
Take off the heat when the syrup starts to turn brown, take care not to burn the caramel at this stage.
Pour the caramel into the ramekins.
Soak the gelatine leaves in cold water.
For the panna cotta, put the coconut milk into a saucepan over a low heat (spoon everything out of the tin), adding the sugar and vanilla extract. With a sharp knife slit the vanilla pod lengthways, scrape out the seeds and add the seeds and pod to the pan. Stir until the sugar has dissolved and the mixture is gently simmering.
Squeeze the water out of the gelatine leaves and add to the pan, stir until dissolved. Take off the heat and allow to cool slightly, then stir in the natural Greek yoghurt.
Ladle the mixture into the prepared ramekins, put onto a tray and, when cool, transfer into the fridge overnight.
To serve, loosen the sides of the panna cotta with a small knife round the edges. Place a small plate on top of the ramekin and turn upside down. If the panna cotta is reluctant to come out of the ramekin, dip the ramekin briefly into a bowl of hot water.
Serve with blood orange segments. To end up with pith-free segments, (or cartwheels), cut a slice off both ends of the orange and then peel it as you would an apple: hold the orange with your non-preferred hand and, with a small serrated knife held with the blade pointing upwards, make short up and down sawing movements, going round and round the fruit until it is completely skinned. It's good to do this holding the oranges over the bowl as the juice then drips over the rest of the fruit. There should be no pith left on the orange. You can then follow each layer of skin down to the heart to cut the fruit into skinless segments, or slice the whole orange horizontally as thinly as you can, into cartwheels. Remove the pithy centre of each segment and scatter the orange segments over the salad.
This recipe featured in the Sarah Raven 2016 Calendar.
You may also like: