the very best annual climbers
Written by:

Sarah Raven

Last updated: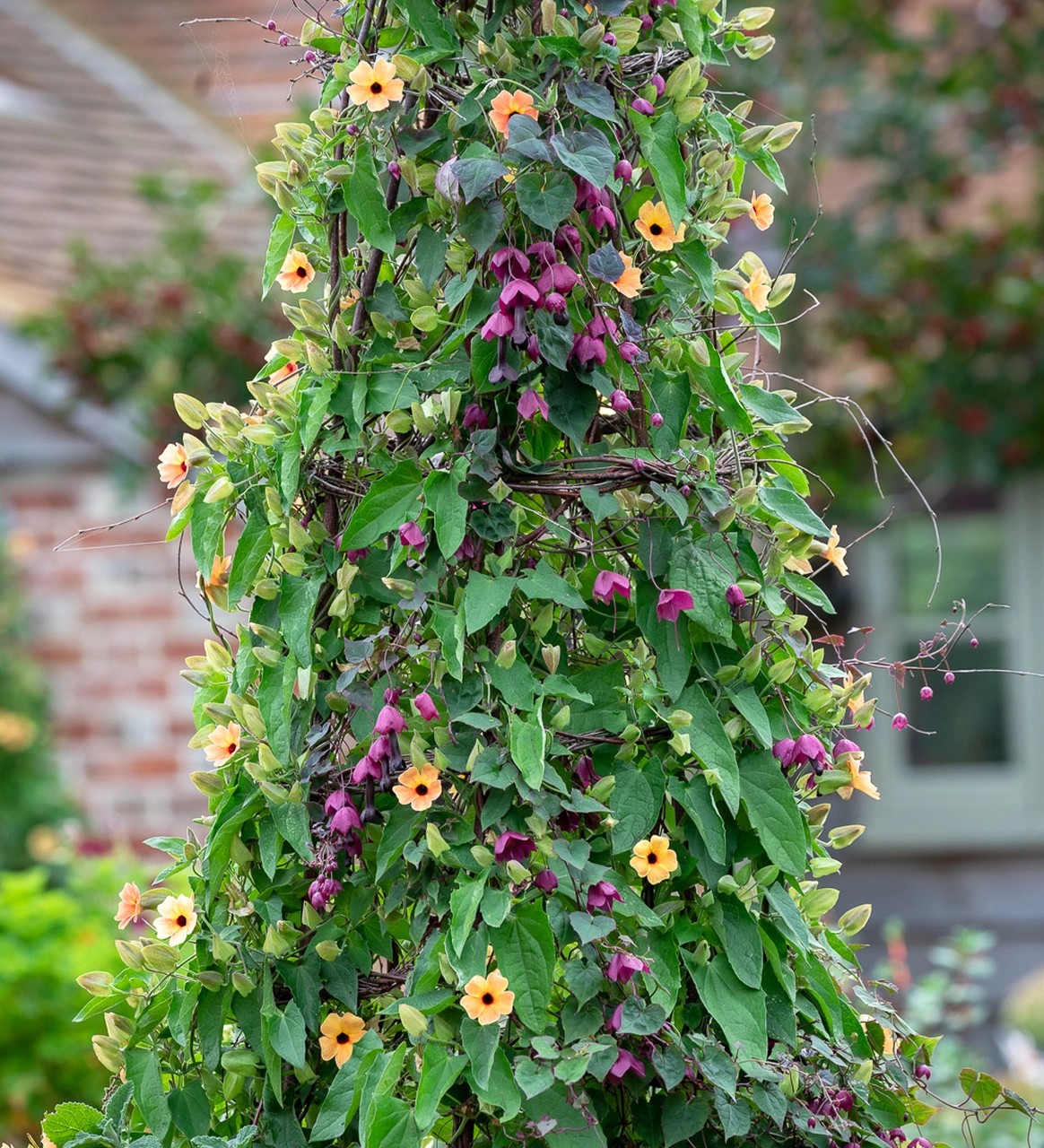 Behind the story of Jack and the beanstalk is some deep level of amazement at what a seed can do in the course of a year. By last September I had a French bean 12ft high and a cup-and-saucer vine poking in at the bathroom window in the attic at 30ft high. From next to nothing, to a plant that towers above you – all in a matter of months. This is predictable enough with, say, a clematis, which has a perennial root feeding that annual growth, but the fact that a tiny seed can do this at such a lick remains, in my mind, miraculous.
Annual climbers are also a wonderful gift late in the year. All through the prime months of summer they're in their preparatory phase, getting themselves sorted for their joyous, autumn, go-for-it moment. I sometimes think they're like that last Christmas present you find tucked in a corner, unopened on Boxing Day, which is all the more precious because it hasn't been part of the main splurge. Even now – in March – we still have a purple bell vine (Rhodochiton) flowering in a pot inside and a cup-and-saucer vine (Cobaea), at its best since last September, has only just collapsed in the last hard frost.
That's the thing about many of these annual climbers – strictly speaking, they're not annuals at all but perennials from warmer places. They need to get to a height of about 6ft before they start to flower. And, unless you sow them in the early spring (March), or get hold of already established seedlings, they will reach that key horizon in the autumn. This is just the moment our first frosts strike and will cut them down before their flowering.
Quite surprisingly, once carpeted with flowers, their vines gain some hardiness and they happily go on through some significantly cold nights. Maybe with a certain degree of age their cells just have a greater toughness but, either way, they become fractionally hardier once well up and climbing. All the more reason to sow them early.
There are certain annual climbers that I find to be useless in the garden, however alluring they might look. Last autumn we found an entire acre of an Italian island draped and swathed in the brilliant blue flowers and dark snaking vines of a morning glory vine (Ipomoea), a fantastic jungle-like sight to make any gardener's heart leap, but that was in the Bay of Naples. Try this plant in my garden and it sulks, never really flowers and longs for the Mediterranean or the cosseting of a warm greenhouse. It's like making Sophia Loren go sunbathing on Brighton beach.
Mexican feast
Rhodochiton – the purple bell vine – is a much less tricky customer. A perennial native to Mexico, it grows quickly enough from seed to make it worth growing as an annual here. And it does well. Its climbing heart-shaped leaves twirl around whatever you lean them on, the new growth green inked with purple. As well as writhing upwards, newly formed shoots hang free like purple ribbons around an autumn maypole.
The flowers of rhodochiton are in two parts; the almost black tubular centre – the true flower – hangs as the clapper in a bell of the brighter purple calyx, the red coat of its Greek name . Even after those central tubes have dropped, the calyx will look elegant for weeks.
Last year, we had them in a line of pots mixed with Thunbergia 'African Sunset', the centre of its apricot and peachy-petalled flowers matching the black dangling centres of the rhodochiton. We brought this duo, pot and all, inside, and the bell vine has not stopped flowering. The new growth is paler, but is still forming in its spot beside a floor-to-ceiling window. We also had them in hanging baskets in deep woven willow inverted cones. There, the decent depth of soil, a water and food reservoir, kept them going until Christmas.
Asarina scandens 'Violet' is also a good tumbler from a high pot, frothing up and then falling, as does Mina lobata. This is adaptable and happy to be trained up or allowed to hang down. Its delicate, layered flowers look sweet cut and arranged in a small jug, their stems first seared in boiling water.
That's also true of another Mexican native, Cobaea scandens (AGM), which is a long-standing favourite without which the autumn cutting garden and greenhouse would be bereft. As a garden escaper, it has become a weed in New Zealand, decorating the hedgerows – what a great sight that must be. The flowers look exactly like their common name, a small cup sitting on its saucer; they make some of the best autumn cut flowers, in simple bunches on their own, with some of their twirling vines cut to thread between them.
autumn treasure
If you get all of those into the garden, you can be sure of some real long-lasting autumn pleasure, but now is also the time to plan something that performs earlier in the year.
There is no point having a summer without climbers. By far the best thing to do is to fill teepees, arches and tripods with sweet peas. My enduring favourites – what I call the Harlequin Mix, which have stuck by me for 10 years – are a brilliantly coloured and scented trio, 'Matucana' mixed on a frame with the bright pink 'Prince Edward of York' and the base note purple 'Lord Nelson'. With that lot in place, the garden will be humming with bees, full of scent, and you can pick fistfuls to bring inside, too.
Last summer I discovered another posse of sweet peas I also fell in love with, almost black, with a flash of jade-green, not unlike the cup-and-saucer flower which was to follow them. It includes 'Windsor', 'Almost Black' and the brilliantly contrasting but not scented Lathyrus chloranthus.
We planted the sweet peas in early April to climb up their arch, with the cobaea going out on to the same frame once the frosts were over in May. We then cut down the sweet peas (leaving the nitrogen-fixing leguminous roots in place), pulling their vines out carefully in August to allow room for the cup-and-saucer to romp away. It made for a super-sophisticated mix that, between them, gave flowers from June until December.
related articles
This article first featured in The Daily Telegraph on 6th March 2015.
Take a look at our range of climbers for the varieties mentioned in this article and find your new favourite.