kale, mushroom and lentil pilaf with toasted goat's cheese recipe
Written by:

Sarah Raven

Last updated: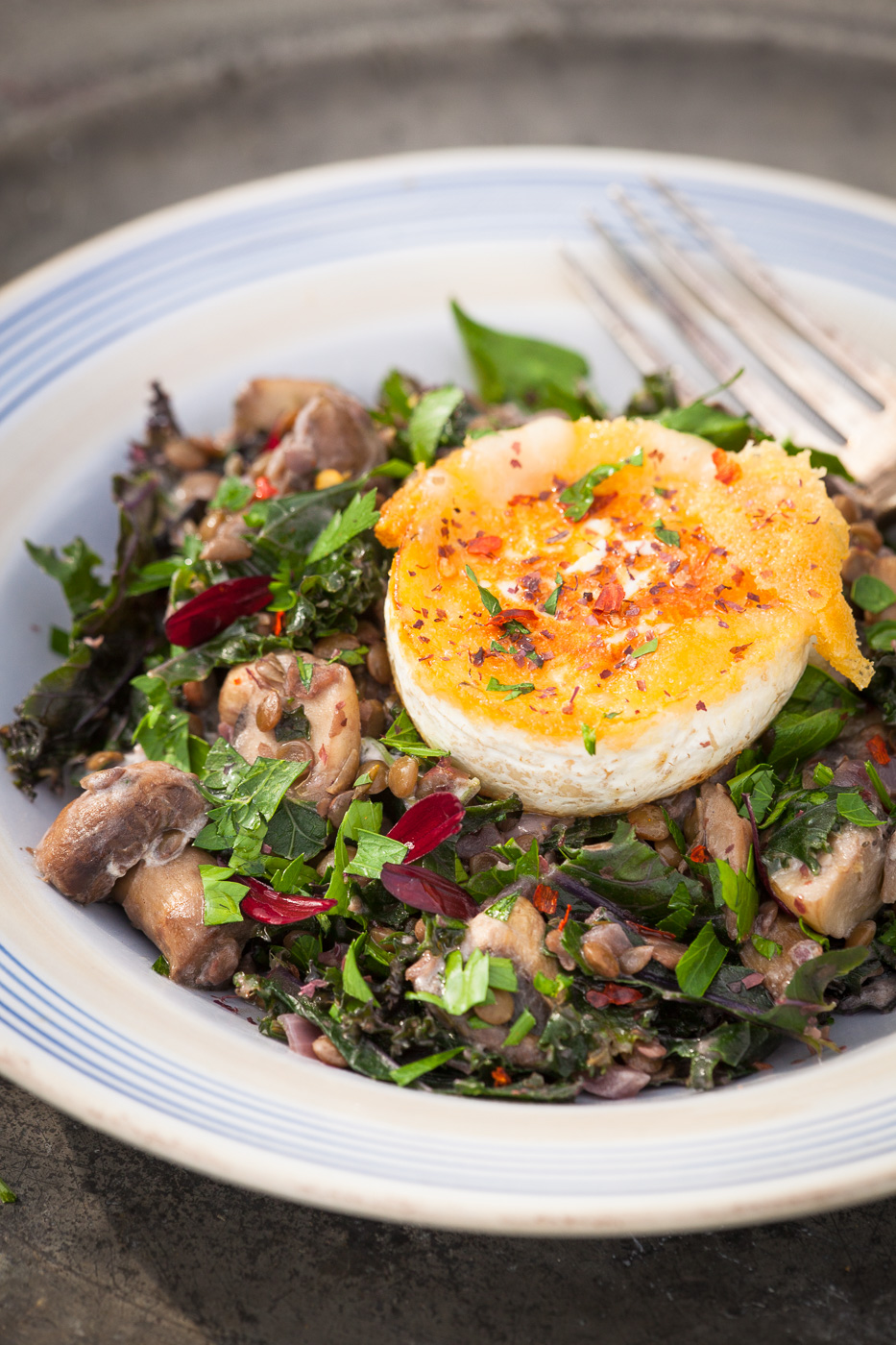 This is hearty, filling winter food. Chestnut mushrooms in particular are good here as they don't collapse on cooking, or you can use whole button mushrooms, oyster, or large flat field mushrooms. They all give a meaty substance, and fit well with the other ingredients, in the same sort of family of warm, earthy tastes. Use seaweed as a flavour enhancer and replacement for salt – it's incredibly good for you.
for 8 as a main course
250g green Le Puy lentils
1 red onion, finely chopped
2 garlic cloves, crushed
3 tablespoons extra virgin olive oil
1 red chilli, deseeded and finely chopped
3 bay leaves
Large sprig of fresh thyme
1 tablespoon ground, dried dulse seaweed
250ml red wine or 1 tin of tomatoes (to give necessary acidity)
2500ml vegetable stock or even better with mushroom stock
300g kale
500g chestnut mushrooms (or mix with oyster and flat field mushrooms) quartered or cut into sixths or eighths, not sliced
100g bunch of flat-leaf parsley, coarsely chopped
150g crème fraiche (optional)
Splash of balsamic vinegar
4 x 100g cakes of goat's cheese
A little ground, dried pepper dulse
Rinse the lentils in a sieve under cold running water. Put in a pan, cover generously with cold water and bring to the boil. Simmer for 5 minutes. Drain and rinse to remove indigestible starches. Set aside.
In a heavy-based pan, sauté onion and garlic over a gentle heat in 1 tablespoon olive oil until soft. Add par-cooked lentils, chilli, bay, and thyme.
Pour in the wine (or tomatoes if using) and stock. Cover and simmer gently for 30-40 minutes until the lentils begin to soften but not collapse. Add a little more wine or water if necessary to prevent them from boiling dry, but don't drown them. Remove the residual thyme stems.
Remove the stems from the kale and chop the leaves into strips. Steam them for 5 minutes. Allow to cool a little and chop into strands.
Put the mushrooms in a large frying pan and cook gently in 2 tablespoons olive oil, sprinkled with a little dulse (to replace salt), stirring occasionally until beginning to brown (10-15 minutes).
Add to the lentils, most of the parsley and finally stir in the crème fraiche (if using), loosened with a splash of boiling water and add the Balsamic vinegar.
Cut goat's cheese cakes in half and grill/bake for a few minutes to warm through until they start to melt and brown.
Serve on individual plates, each topped with a melting goat's cheese cake, dusted with dulse; or from one large flat plate, with all the cheeses on top. Scatter with a small amount of chopped parsley.
This recipe featured in the Sarah Raven 2016 Calendar.
you may also like: