cream of celeriac and Jerusalem artichoke soup recipe
Written by:

Sarah Raven

Last updated: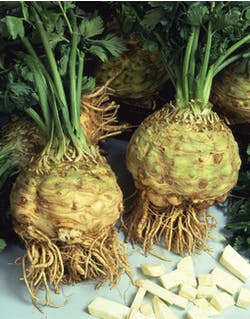 This creamy, smooth-textured soup is lovely as a starter for a big winter dinner, but is filling, so don't serve large bowls of it. This recipe would be plenty for eight people for a one-course lunch served with fresh bread and a swirl of truffle oil.
for 10 as a starter, 8 for lunch
2 onions, chopped
2 tablespoons olive oil
30g butter
750g Jerusalem artichokes
750g celeriac
Bunch of flat-leaved parsley, finely chopped
2 litres vegetable or chicken stock
100ml double cream
Salt and black pepper
A little truffle oil, to serve
Fry the onions in the oil and butter very gently until soft (about 10 minutes).
Peel the artichokes, discarding the knobbles, and chop coarsely. Peel the celeriac, cut into slices and chop coarsely. Add both of these to the pan and sweat with the onion for 5 minutes. Add the parsley and stock and simmer for 20 minutes.
Puree well in a blender or with a wand whizzer. Add the cream and season carefully. Heat through, but do not allow the soup to boil.
Drizzle a little truffle oil on top of each bowl of soup as you serve.
This recipe featured in p.354 of Sarah Raven's Food for Family and Friends
You may also like: