chard and coconut soup recipe
Written by:

Sarah Raven

Last updated: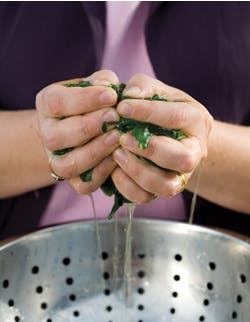 This is one of my favourite delicious, fresh-tasting and yet comforting winter soup.
serves 6–8
2 medium sized onions
2 cloves garlic
Slurp of olive oil
1.5 L vegetable stock
400 ml (1 tin coconut milk)
250 g winter greens – spinach or chard – roughly chopped
125g red giant mustard for a more peppy flavour – roughly chopped
Maldon salt and pepper
Finely chop and sweat the onions and garlic gently for about ten minutes until they're soft. If you leave the tip of the onion intact and cut from the root in, you're eyes won't water. Add the stock and coconut milk and bring to the boil.
Remove from the heat. Add the spinach and mustard leaves. As soon as they wilt – in less than a minute – whiz them up.
Don't cook the leaves or you lose their brilliant emerald colouring. If using chard, you need to cook for two to three minutes as the leaves are slower to soften and then whizz.
Cook's Note: This also tastes wonderful made with lettuce and lovage!
This recipe is featured on p.395 of Sarah Raven's Garden Cookbook