wild garlic and ricotta al forno recipe
Written by:

Sarah Raven

Last updated: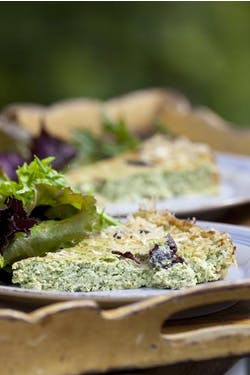 This is rich yet fresh, and lighter than it sounds – wonderful with bread and a crunchy green salad. You can leave out the olives if you prefer. I like to add pine nuts for extra texture.
For 4-6
For the pesto:
2 handfuls (about 100g) of wild garlic leaves with flowers
200ml extra virgin olive oil, plus a bit more for sealing
50g pine nuts or walnuts
2 garlic cloves
50g Parmesan cheese, grated
Salt and black pepper
Knob of butter
100g Parmesan cheese, grated
500g fresh ricotta cheese
120ml double cream
2 eggs
Salt and black pepper
100g pine nuts, dry-fried or toasted (optional)
12 black olives, stoned and chopped (optional)
First make the pesto. Blanch the wild garlic leaves in boiling water for about 10 seconds. Refresh in cold water and pat dry on kitchen paper.
Put the wild garlic, olive oil, pine nuts or walnuts, together with the garlic cloves, into a food processor and blend to a purée. Transfer to a bowl and mix in the grated Parmesan, season carefully and put into a sterilised jar. Pour over a little extra olive oil to seal and cover tightly, store in fridge.
Preheat the oven to 190°C/gas mark 5. Grease a 30cm spring-form cake tin with a knob of soft butter, then coat the buttered surface with a little grated Parmesan. Shake off any excess.
Put 2 tablespoons of the pesto into a food processor with the ricotta and cream. Blend until bright green and, with the machine running, add the eggs one by one. Transfer to a large bowl, and season the mixture with salt and pepper. Add the pine nuts (if using), and finally fold in the rest of the grated Parmesan.
Spoon the mixture into the prepared tin and spread the olives (if using) over the top. Bake for 20 minutes. It should rise slightly and have a brown crust, but with a soft centre. Serve immediately.
This recipe featured in Sarah's 2015 Grow Cook Eat Diary.