the best muesli
Written by:

Sarah Raven

Last updated: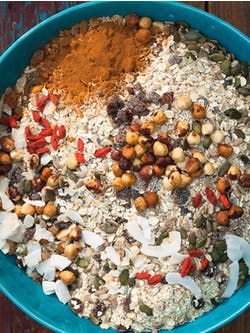 This recipe, unlike many shop-bought mueslis, contains no added sugar. Make a big batch of the core recipe to last a couple of weeks and store in an airtight jar, then add the extras you like, changing them from one day to the next.
For 1.8kg muesli base
50g hazelnuts
600g whole wheat (or rye) flakes
500g rolled oats
200g jumbo oats
350g raisins
50g milled organic linseeds
30g sunflower seeds
For the extras
A few dried goji berries
A sprinkling of ground cinnamon
Flaked coconut
Sesame seeds
Pumpkin seeds
Almonds, chopped or flaked
Walnuts, chopped
Brazil nuts, chopped
Dry-fry the hazelnuts in a frying pan to lightly toast them. Cool, then roughly chop them if you want to. Then dry-fry the wheat (or rye) flakes in the same frying pan – this adds to their taste. Keep the wheat flakes moving until they start to gently colour and a toasting smell comes off the pan, but take care not to burn them.
In a bowl, mix all the muesli base ingredients together with your hands. Add the extra ingredients, either raw or gently dry-fried, every morning when you eat your muesli.
This recipe originally appeared in Good Good Food.