stuffed red horn peppers
Written by:

Sarah Raven

Last updated: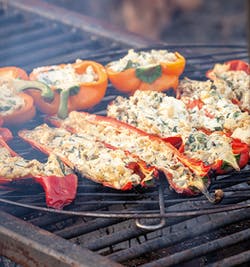 Sweet red peppers stuffed with cream cheese and pine nuts are delicious served with barbecued meat, or as a starter. We usually start picking these in the greenhouse by the middle of the month – they are lovely and sweet at this time of year.
For 8 pepper halves
4 red horn (romano) red peppers
200g cream cheese or goats' curd cheese
50g pine nuts, dry-fried for 3-4 minutes
1 tablespoon finely chopped thyme leaves
2 tablespoons extra virgin olive oil
Salt and black pepper
Slice the peppers in half lengthways, including the stems, and scrape out the seeds.
Mix the remaining ingredients together and use a teaspoon to fill the peppers with the mixture. Don't stuff them too tightly or they won't cook evenly.
Put them on a hot griddle or barbecue skin side down and cook them for 10 minutes, until the undersides just begin to char. They may pop and jump slightly on the heat, so you need to watch them.
Served scattered with a little fresh basil or oregano.