spinach, sorrel and pine nuts tart
Written by:

Sarah Raven

Last updated: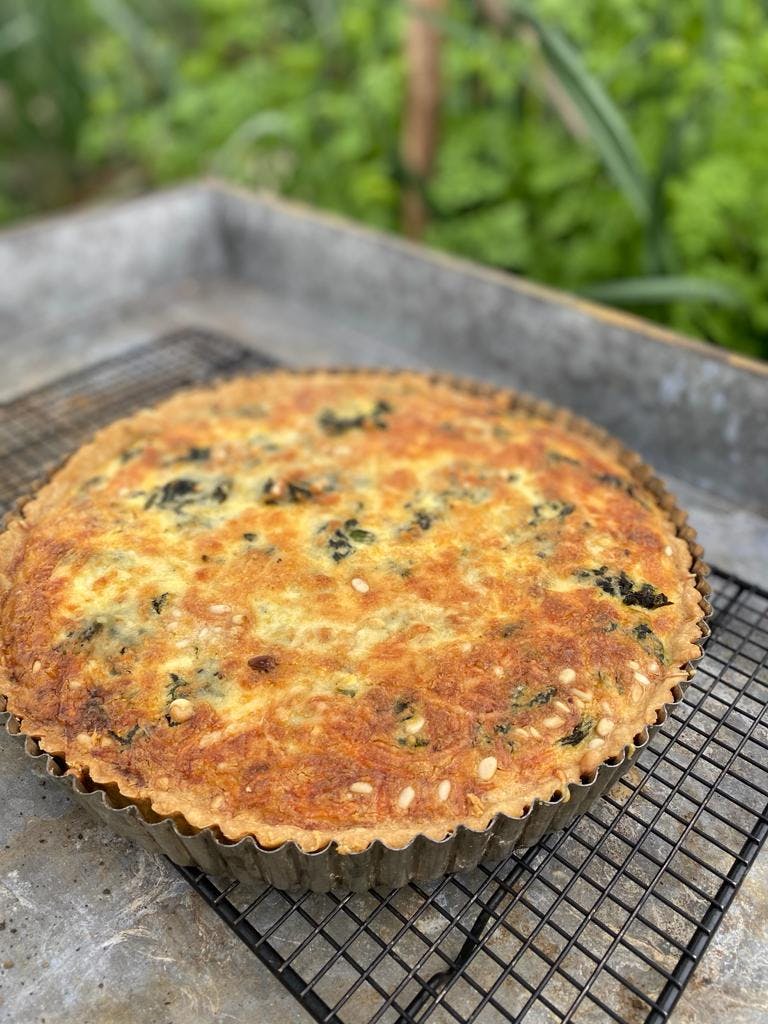 There are plenty of summer tarts that are best eaten warm, but this one is also good cold. I love the combination of spinach and sorrel, but spinach also works well on its own.
serves 6-8
300g spinach
100g sorrel
200ml double cream
100ml milk
3 eggs
1 teaspoon Dijon mustard
Freshly grated nutmeg
½ teaspoon cayenne pepper
200g Gruyère cheese, grated
Salt and black pepper
100g pine nuts
for the pastry
180g plain flour
Pinch of salt
50g lard
50g butter
1 tbsp grated Parmesan cheese
1 egg yolk
3 tbsps cold water
To make the pastry, sift the flour with the salt and rub in the butter or pulse in a food processor until it has the consistency of breadcrumbs.
Add enough beaten egg and iced water to bring the pastry together in a ball.
Wrap it in cling film and leave it in the fridge for at least 30 minutes.
Preheat the oven to 200ºC. Roll out the chilled pastry and use to line a 22cm tart tin.
Prick the bottom of the tart with a fork, cover with a round of greaseproof paper or foil and weight this down with some baking beans or rice.
Bake the pastry case blind for about 15–20 minutes. Take it out of the oven (leaving the oven on but turning the setting down to 180ºC and let it cool slightly, and then remove the beans or rice and the lining paper.
Pick over the spinach and sorrel leaves, removing any tough ribs. Cook until tender and drain thoroughly.
To remove excess liquid, squeeze the leaves out with your hands or twist them gently in a clean tea towel. Chop the greens very roughly.
Pulse grated nutmeg, cayenne and grated cheese together and add to the pastry case.
Mix the cream, milk and eggs together and add the mustard. Season with salt and pepper.
Spread out the greens on the pastry case. Scatter over the pine nuts and pour over the cream mixture.
Cook the tart for 30–35 minutes and serve warm or cold with salad.