sesame salmon with pea pesto
Written by:

Sarah Raven

Last updated: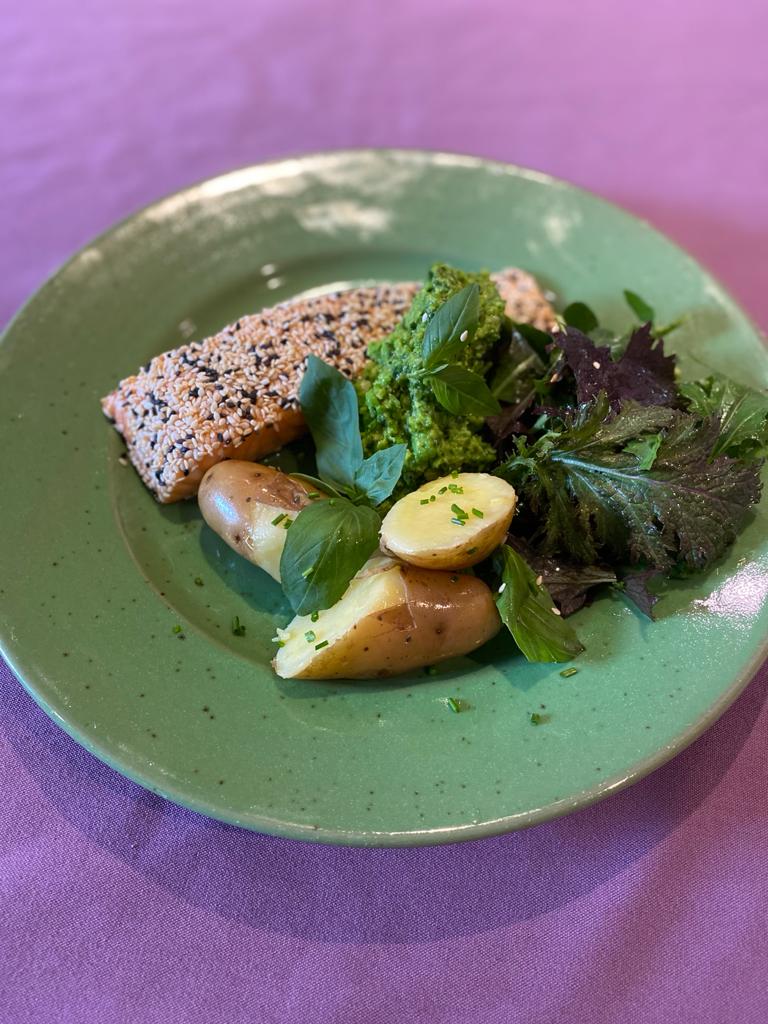 Here is a brilliantly easy, almost instant dish our daughter Molly had in a restaurant while on holiday in France and came back asking me to make. It is crucial to get really good salmon. Most farmed salmon has a dubious reputation right now so needs a to be MSC certified or organic.
serves 4
80g sesame seeds
4 salmon fillets (about 180g each)
1 tablespoon olive oil
1 tablespoon sesame oil
For the glaze:
300g peas, thawed if frozen or blanched for 1 minute if fresh
5 tablespoons extra virgin olive oil
Large handful of fresh basil leaves, plus extra to serve
Juice and grated zest of 1 lemon
1 tablespoon peeled and freshly grated ginger
2 roughly chopped garlic cloves
Salt and black pepper
method
Spread the sesame seeds over a plate, then cake each salmon fillet in them.
Heat the olive oil and sesame oil, and cook the fish for 2-3 minutes on each side (depending on whether you like the fish rare in the middle, as I do, or cooked right through).
You can also bake them in the oven for 15 minutes at 180°C.
In a food processor, briefly whizz the peas with the olive oil, basil, lemon juice and zest, ginger and garlic. Season generously with salt and pepper.
Transfer to a saucepan and warm through.
Scatter each salmon fillet with a few torn up basil leaves. Serve with a dollop of pea pesto at the side, some new potatoes and crunchy salad leaves.