roast cumin carrots recipe
Written by:

Sarah Raven

Last updated: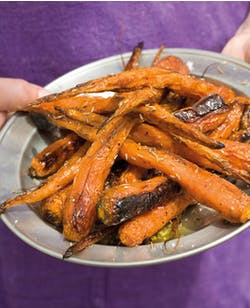 The beauty of these carrots is that you can make them the day before – they are just as good reheated. The slow roasting brings out all their sweetness, and finely chopped rosemary can be used instead of cumin seeds. Once cold, the carrots also make a great salad with tahini dressing.
for 6-8 as a side dish
1kg small to medium-sized carrots, peeled and left whole
1-2 tablespoons olive oil
2 tablespoons cumin seeds
Knob of butter
Salt and black pepper
Preheat the oven to 160C/gas mark 2-3.
Place the carrots in a roasting tin and drizzle with a little olive oil. Place in the oven for a good hour.
Once the carrots are cooked, toast the cumin seeds in a large dry pan to bring out the flavour. (If using rosemary, finely chop it but do not toast.) Add a large knob of butter and the roasted carrots to the pan and toss with the seeds or herb. Season and serve immediately, or store in the fridge for reheating when needed.
This recipe features on p.290 of Sarah Ravens Food for Friends and Family cookbook.