prosciutto and rocket rolls recipe
Written by:

Sarah Raven

Last updated: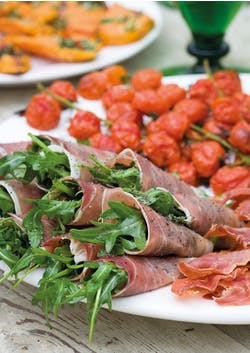 If you're having drinks before a lunch party, it's a good idea to make some quick and simple canapés to have at the same time. These I love – a salad in a prosciutto roll.
makes 20 rolls
1 tablespoon poppy seeds
140g rocket (fine-leaved wild rocket is ideal)
20 slices prosciutto
for the dressing
3 tablespoons extra virgin olive oil
1 tablespoon lemon juice
1 teaspoon soft brown sugar
Salt and black pepper
Dry-fry the poppy seeds in a small pan over a medium heat for 2-3 minutes.
Combine the dressing ingredients in a clean, empty jam jar. Secure the lid and give it a good shake.
Put the rocket into a large bowl and pour over enough dressing to lightly dress the leaves. Add the roasted poppy seeds and toss.
Place a slice of prosciutto on a chopping board, sit some of the dressed rocket on it and roll up. Serve immediately as the rocket will start to go limp if left sitting.
This recipe appears on p347 of Sarah Raven's Food for Friends and Family cookbook.