pelargonium-scented strawberry jam recipe
Written by:

Sarah Raven

Last updated: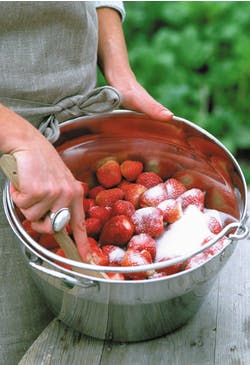 Don't make strawberry jam in huge batches; it's harder to get it to set, and with endless boiling you lose the freshness of the flavour. Adding scented pelargonium (geranium) leaves to the jam, as the Greeks often do, enhances the flavour. If you can't find them, adding black pepper is a delicious alternative – it cuts the sweetness of the jam.
makes 2 x 450g jars
900g fresh strawberries, hulled
4 scented pelargonium leaves, or a good grinding of black pepper
Juice of 2 lemons
900g granulated sugar, warmed in the oven
Place a saucer in the fridge, ready for when you come to test for setting point later on.
Put the strawberries and pelargonium leaves (or pepper) into a large, heavy-based, stainless steel pan and use a potato-masher to squash the fruit slightly. Don't push too hard - you just want some of the fruit to release a little juice, not to be completely flattened.
Stir in the lemon juice and bring to the boil for 2-3 minutes. Stir in the sugar and boil for another 10-15 minutes. Remove the leaves.
Pull the pan off the heat and test for setting point. Take the saucer from the fridge and place a teaspoonful of the jam on it. When cool, it should wrinkle when you push it with your finger. You could also use a jam thermometer here; when it reaches 104-105°C, the mixture will set.
Cool slightly and pour into a dry, warm, sterilised jars (you can sterilise them in a very hot dishwasher, or boil them in a pan of water for 10 minutes). Cover with a wax disc, then seal and label with the date. This jam will last for several years. Once opened, store in the fridge.
This recipe features on p.225 of Sarah's Food for Friends and Family Cookbook.