pecan, apple and celery stuffing recipe
Written by:

Sarah Raven

Last updated: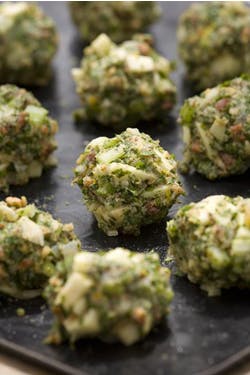 I love the way that pecans remain really crisp in a stuffing mix. If you can't find pecans, use walnuts, but toast them for a few minutes first.
To make sure that the heat penetrates the turkey thoroughly during cooking, don't over-stuff it. Extra stuffing can be cooked separately. You can also make this in advance. Pack into a plastic box and freeze.
for a medium-sized bird
olive oil, for frying
4 shallots, chopped
4 celery sticks
2 large Bramley apples
175g pecan nuts
150g breadcrumbs
2 large bunches of parsley, chopped
25g fresh thyme, chopped
1/2 teaspoon powdered cloves
1/2 teaspoon ground cinnamon
zest and juice of 2 oranges
3 garlic cloves, finely chopped
110g melted butter
sea salt and black pepper
Heat a little olive oil in a pan and add the chopped shallots. Sweat over a low heat until they are translucent and soft. Allow to cool.
Chop the celery and peel, core and chop the apples. Roast the pecans for 2-3 minutes in a moderate oven (180°C/gas mark 4) and chop roughly.
In a large mixing bowl, mix the breadcrumbs with the chopped herbs, spices, orange zest, chopped apples, celery, nuts and garlic. Add the shallots and orange juice. Stir in the melted butter and season well.
Use this to stuff the body cavity. Don't forget to weigh the turkey after you have stuffed it. You need to include the stuffing weight in your overall cooking time.
This recipe appears on p.187 of Sarah's Complete Christmas Food & Flowers book.