peach melba recipe
Written by:

Sarah Raven

Last updated: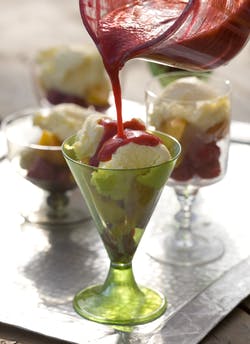 A simple combination of vanilla ice cream, fresh peaches and raspberry coulis. It's not sophisticated, but it is delicious. You will probably make more of the coulis than you need, but it will keep in the fridge for a day or two and can be used on ice cream. Some toasted almonds or praline make a tasty addition to this pudding.
for each glass
2 scoops of vanilla ice cream
1 white peach, peeled and sliced
A few raspberries
for the raspberry coulis
500g raspberries
2-3 tablespoons icing or caster sugar to taste
To make the coulis, put the raspberries and sugar into a food processor. Puree and then push the puree through a coarse sieve.
In each fluted glass, pile in a couple of scoops of good vanilla ice cream. Scatter over the peach slices, pour over some raspberry coulis and finally all a few fresh raspberries.
This recipe featured in Sarah Raven's 2015 Diary.