lettuce hearts with hot butter dressing
Written by:

Sarah Raven

Last updated: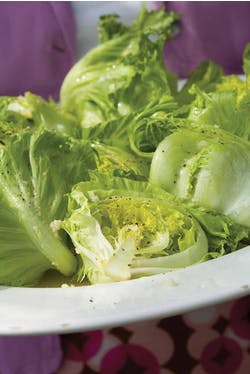 Children who don't like lettuce often love it prepared this way. Roughly chopped chives and new radishes are good with this. You can also serve crunchy lettuce hearts dressed with olive oil quickly heated with a clove of garlic, a squeeze of lemon and some finely chopped red chilli.
for 4
4 small crisp lettuce hearts, such as Cos or Reine de Glace
100ml unsalted butter
sea salt and freshly ground black pepper
Discard the outer darker-green leaves and quarter the lettuces longways, and wash and dry them.
Warm the butter in a small pan. Arrange the lettuce in a shallow bowl.
Just before serving, pour over the hot butter with plenty of sea salt and black pepper.
This recipe appears on p.112 of Sarah's Garden Cookbook.