lemon and courgette drizzle cake recipe
Written by:

Sarah Raven

Last updated: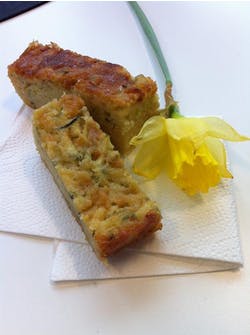 You can make this cake at any time of year, but all citrus fruit is good in the winter and early spring. The courgette adds a brilliant moistness and cuts through the sweetness of this sugary cake. This is my husband Adam's favourite.
serves 10
110g unsalted butter
175g caster or granulated sugar
3 eggs, beaten
4 tablespoons milk
175g self-raising flour
2 medium courgettes, grated
1 teaspoon baking powder
grated zest of 1 lemon
for the drizzle:
juice of 2 lemons
110g caster sugar
Preheat the oven to 180°C/gas mark 4. Line a 22cm square brownie tin with greaseproof paper.
Beat the butter and sugar together until light and fluffy, then add the eggs and milk bit by bit. Fold in the flour, courgettes, baking powder and lemon zest. Pour the mixture into the prepared tin and bake in the oven for 25 minutes.
While the cake is baking, make the drizzle by mixing the lemon juice with the caster sugar.
Once the cake is ready, remove from the oven. Allow to cool for 5 minutes, then turn out on to a plate. While still warm, pour the drizzle evenly all over the top. Allow to cool completely, then cut into rectangular fingers.
This recipe features on p.410 of Sarah's Food for Friends and Family cookbook.