how to make our everlasting christmas pine garland idea
Written by:

Sarah Raven

Last updated: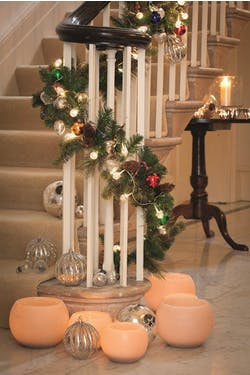 Create a fantastic 'wow' moment with a garland sweeping up the bannister, or as a swag on the fireplace, filled with colour and sparkle from lights and baubles. Our everlasting pine garland looks so real you have to squeeze it just to check, and it won't drop needles all over the place. Dressing it up with lights and baubles is incredibly easy to do.
The beauty of this is it will look as good when you're ready to take it down as it did on the day you put it up – and it can all be used again next year.
you will need:
how to get the look
1. Stretch out your pine garland from the base of your staircase to as far as it will go up the banister, allowing it to curve and billow a bit rather than having it taught. Attach it in a few places with ribbon or reel wire.
2. Next thread your light chains through the pine, adding one or two chains to light the whole length.
3. Decorate with baubles, large and small, colourful and silver.
4. Place the tealights inside the wax globes, in little rice or sand (to stop the tealights melting the globe). Or use our Battery Tealights so there's no worry of a naked flame. Place these at the foot of the stairs, with one or two added at a higher level.
5. Mix these up with a few magnificent baubles to emphasise it's Christmas, then your hall will glow!
useful kit...