Danish glögg recipe
Written by:

Sarah Raven

Last updated: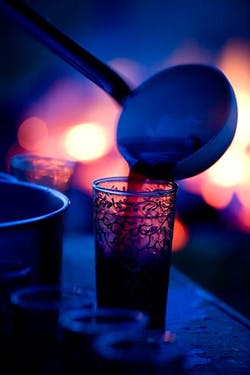 This is the best of all spicy, hot red wine recipes to serve at a firework party. It knocks the socks off the usual over-sweet mulled wine or Glühwein.
makes about 12 glasses
1 orange, studded with 10 cloves
100g raisins
4-5 shot glasses of aquavit (if you can't find this, brandy, Madeira or rum will do)
2 x 750ml bottles of red wine (as good as you can afford - good wine equals good glögg)
2 cinnamon sticks
1-2 tablespoons caster sugar, or to taste
thickly pared zest of 1/2 lemon
100g whole, peeled almonds
Place the clove-studded orange and the raisins in a bowl with the aquavit, cover and marinate overnight.
Pour 200ml of the red wine into a large saucepan and add the cinnamon sticks, sugar and lemon zest. Heat up the mixture but don't allow it to boil. Meanwhile, drain the marinated fruit. Take the saucepan off the heat. Add the marinated fruit and the almonds. Cover and leave to steep for at least 30 minutes.
Add the remaining wine to the pan and heat up once more, again taking care not to let it get near boiling point. Serve in mugs or glasses, with a spoon in each to scoop up the nuts and fruit.