chicory and blood orange salad recipe
Written by:

Sarah Raven

Last updated: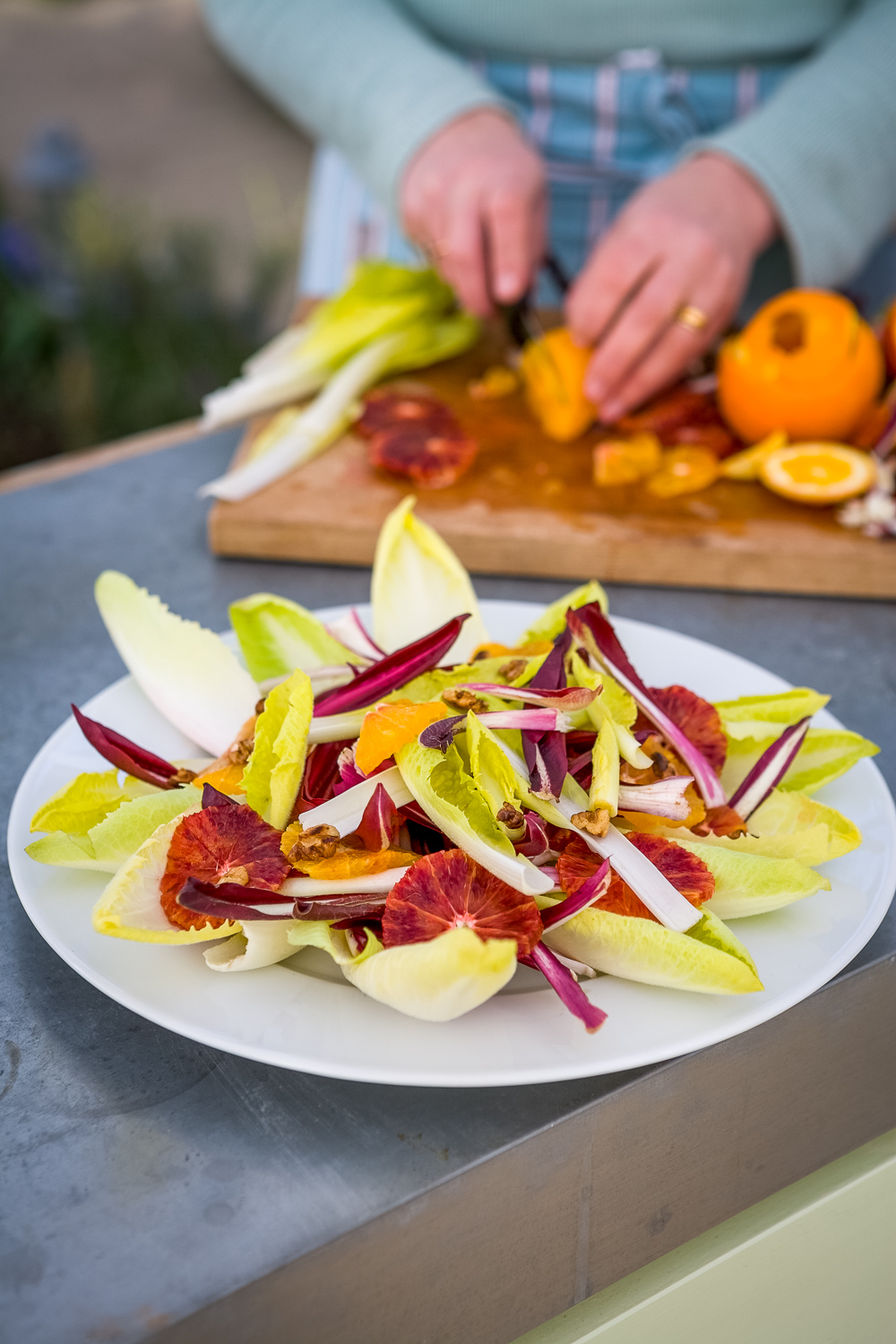 Putting fruit in a salad may seem a bit retro but don't worry, this salad looks beautiful and is ideal as a light winter first course when you're heading towards a rich, meaty main. A squeeze of lemon with the orange juice in the dressing sharpens it up and gives it the strength to stand up to the bitterness of the leaves. To make the salad more substantial, add roasted walnuts.
serves 4-6
2 small chicons of Belgian chicory
1 small chicon of Treviso (if not available, use all Belgian chicory)
Squeeze of lemon juice
2 blood oranges
For the dressing
3 tablespoons olive oil
1 tablespoon walnut oil
Juice of 1/2 blood orange
Juice and grated zest of 1/2 lemon
Salt and black pepper
1 heaped tablespoon walnuts, roughly chopped (optional)
If using small chicories, you can peel away the leaves one by one and eat them just as they are, without slicing. If you can only find big chicons, cut each frond in half long-ways and squirt immediately with lemon juice. Meanwhile, roast the roughly chopped walnuts, if using them, for 3 minutes in a hot oven or dry-fry them in a pan.
To end up with pith-free segments or slices of orange, cut a slice off both ends of the orange and then peel it as you would an apple: hold the orange with your non-preferred hand and, with a small serrated knife held with the blade pointing upwards, make short up and down sawing movements, going round and round the fruit until it is completely skinned. There should be no pith left on the orange. You can then follow each layer of skin down to the heart to cut the fruit into skinless segments, or slice the whole orange horizontally as thinly as you can, into cartwheels. Remove the pithy centre of each segment.
Make the dressing by mixing the olive and walnut oil, orange juice, lemon juice and zest, salt and pepper, making sure that it has a sharp enough taste. If you're using ordinary oranges – which have a sweeter flavour than blood oranges – add more lemon juice to make it good and tart. Scatter the walnuts, if using them, over the top.
This recipe appears on p.26 of Sarah's Garden Cookbook.