chicken tagine with almonds and apricots recipe
Written by:

Sarah Raven

Last updated: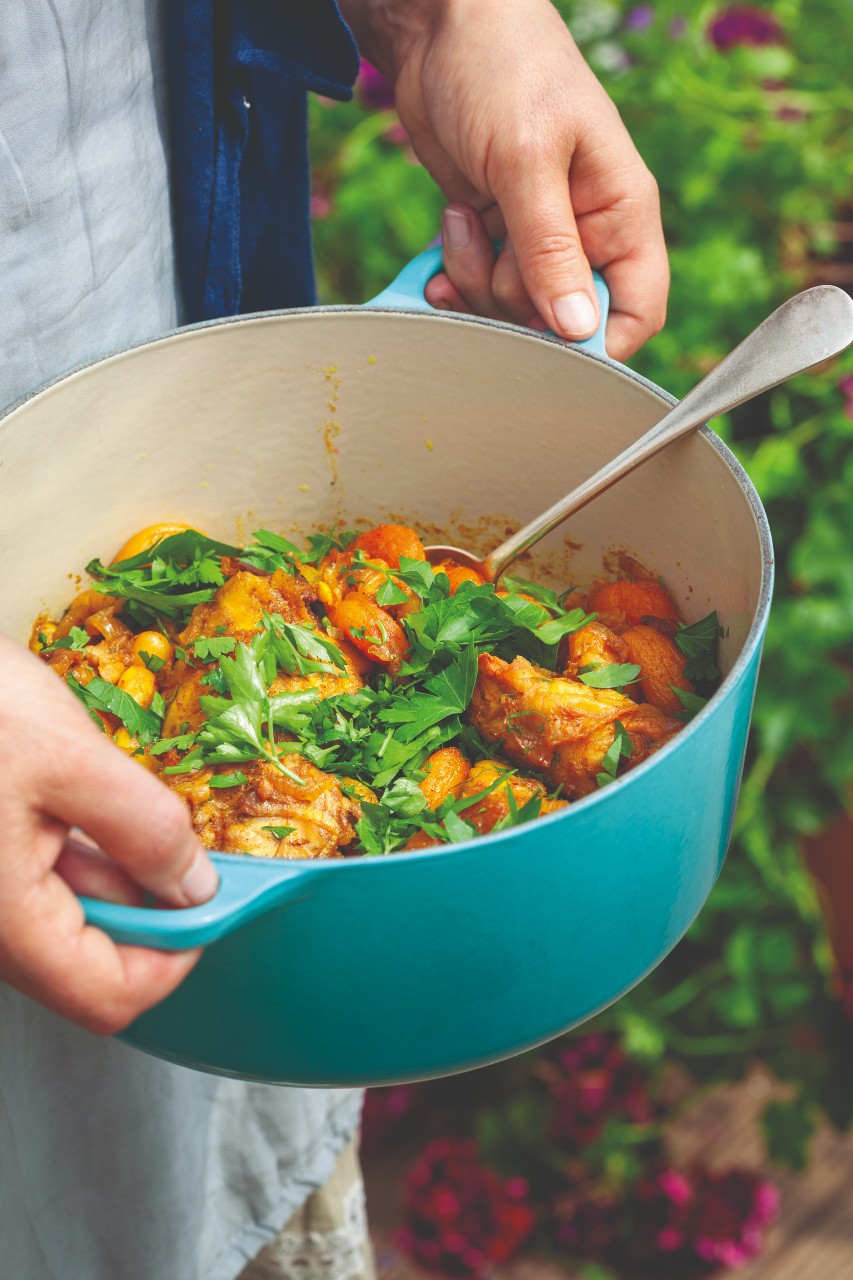 A tagine is a North African stew made with a minimal amount of liquid. It takes its name from the conical dish it's cooked in, which creates its own moisture. If you don't have one, use an ordinary covered casserole instead. The great thing about a tagine is that it is best prepared a day or two in advance and kept in the fridge for the flavours to merge.
If you're going to reheat it, use thighs, not the whole bird, then the meat doesn't become dry and stringy. Serve this with lemon and lime couscous and a pea, broad bean and edamame bean salad.
Serves 4
1.5kg free-range chicken, cut into 8 pieces, or 8 thighs if you plan to reheat
1-2 tablespoons olive oil
2 onions
2 garlic cloves
A pinch of saffron strands
1 teaspoon turmeric
1 teaspoon ground cumin
1 teaspoon ground cinnamon
1/2 teaspoon ground ginger
1/2 teaspoon hot paprika
Apple juice (amount depends on size of dish)
250g fresh or ready-to-eat dried apricots
100g whole peeled almonds
Large bunch of fresh mint, chopped
Large bunch of coriander or parsley, chopped
In a heavy-based flameproof casserole, lightly brown the chicken pieces in a little olive oil. Add the onions and garlic and sauté for a further 3-4 minutes.
Sprinkle on the saffron, turmeric, cumin, cinnamon, ginger and paprika, and pour in just enough apple juice to cover the meat. Bring to the boil, cover and simmer gently for 15 minutes, stirring frequently to ensure the chicken cooks evenly and doesn't dry out.
Add the apricots and almonds. Cover and cook for a further 15 minutes, or until the chicken is tender.
When ready to eat, stir in most of the mint and coriander or pasley, leaving a little to scatter over the top as you serve.
This recipe features on p.167 in Sarah Raven's Food for Family and Friends