beetroot and mint falafel with super-nutritious tzatziki
Written by:

Sarah Raven

Last updated: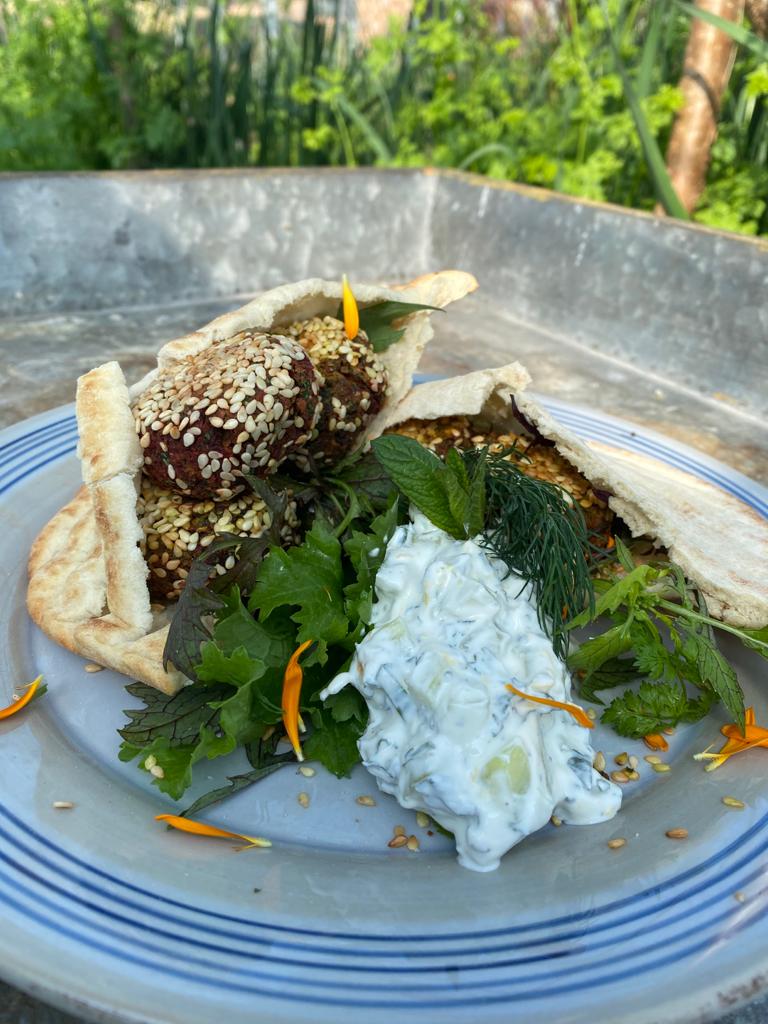 Falafels are usually fried, or even deep-fried, but these are baked in the oven for a lighter, less calorific version. Ideal served with our super-nutritious tzatziki, some pitta and plenty of salad.
for 12 falafel, to serve 4-6
Cold-pressed rapeseed oil for greasing
4 spring onions, chopped
1 garlic clove, chopped
30g bunch of mint, leaves
20g bunch of flat-leaf parsley
1 tsp cumin seeds, dry-fried
1 tsp coriander seeds, dry-fried
Pinch of chilli flakes
½ tsp ground cinnamon
1 tsp ground turmeric
100g grated raw beetroot
1 tsp baking powder
Grated zest of 1 lemon
1 x 400g tin of chickpeas, drained and dried with a tea towel
Drizzle of olive oil (optional)
Salt and black pepper
1–2 tbsp sesame seeds, dry-fried
For the tzatzki:
400g live natural yoghurt
30g bunch of dill or mint, finely chopped
½ cucumber
1 garlic clove, finely chopped (or 2 if you like strong tzatziki)
Sea salt and black pepper
method
Preheat the oven to 200°C/gas mark 6. Line a baking sheet with baking parchment.
Place all the ingredients, except the chickpeas, olive oil, salt, pepper and sesame seeds, in a food processor. Blitz until a smooth paste is formed.
Add the chickpeas and pulse until all the ingredients are combined and you have a coarse paste.
You may need to drizzle in a touch of olive oil to bring it together. Taste the mix and season with salt and black pepper.
Roll the mix into 20 balls, slightly smaller than a ping-pong ball.
Roll in the sesame seeds and place on the lined baking sheet. Slightly flatten the balls with your fingers.
Place in the oven and cook for 15 minutes. Then turn the falafels over and cook for a further 15 minutes until crisp on the outside.
For the tzatziki, whizz the yoghurt briefly with the dill leaves or mix well and leave to stand for an hour for the flavours to infuse.
Line a strainer with a muslin or a double thickness of paper towels and spoon in the dill-flavoured yoghurt. Leave it to drain over a bowl in the fridge for at least 6 hours, but ideally overnight.
Grate the cucumber. Mix this into the dill-flavoured yoghurt along with the garlic and olive oil. Season to taste with salt and pepper.