beer-can chicken recipe
Written by:

Sarah Raven

Last updated: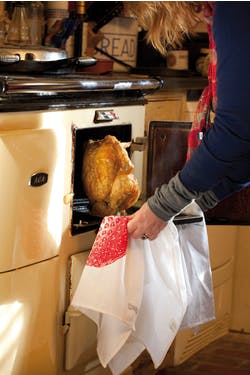 Although bizarre, the technique used here is an excellent way to cook a chicken, with the bird steamed from the inside at the same time as being roasted from the outside. This leaves it as moist as any chicken I've tried. Add whatever spices and flavours you fancy to the can, such as a bunch of chopped tarragon, the juice of a couple of lemons or limes, some toasted and crushed cumin and coriander seeds. They are all delicious. Use the smallest can of beer you can find, or it might not fit in your oven.
for 4
1 x 1.5kg free-range or organic chicken
1 tablespoon olive oil
1 small can of lager or beer
1 cinnamon stick
1 bay leaf
1 dried chilli
1 teaspoon coriander seeds
1 teaspoon fennel seeds
1 teaspoon cumin seeds
4 strips lemon or lime zest
Juice of 1 lemon or lime
Salt and black pepper
Preheat the oven to 180C/gas mark 4.
Rub the chicken with olive oil. Open the can of lager and drink or pour out a little. Holding the can over the sink, as the beer fizzes when you add the first ingredients, stuff it with the cinnamon stick, bay leaf, chilli, seeds, lemon or lime zest, juice and some salt and pepper.
Stand the can in a baking tin and balance the chicken on the open top of it, with the neck of the chicken over the top of the can. Cook for 50 minutes, then take out of the oven. Allow to cool slightly before you lift the chicken off the can and pour it's contents over the bird. Put the chicken back in the oven for a further 10-15 minutes.
Spoon off any fat and strain the juices. Reheat the slightly beery but delicious liquid and use for a gravy.
This recipe appears on p.49 of Sarah Raven's Food for Friends and Family cookbook.