mary stearn's apple cake recipe
Written by:

Sarah Raven

Last updated: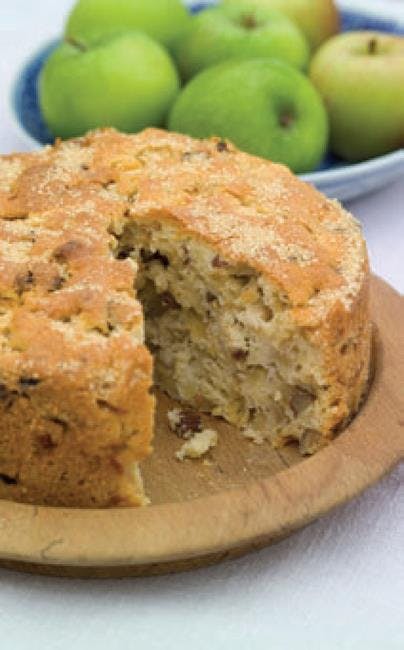 Mary Stearn has lived on the farm at Sissinghurst almost all her life.
Her recipe for apple cake, thick with fruit, slightly fluffy and moist, is the best I have tried. It is quick and reliable enough for my youngest daughter, Molly, to make faultlessly. Serve it warm, straight from the oven, with sweetened whipped cream.
serves 10-12
2 medium cooking apples, preferably Bramleys, peeled and cored
juice of ½ a lemon and finely grated zest of 1 lemon
250g sugar, plus extra for sprinkling over the top
250g unsalted butter, softened
350g self-raising flour, sifted
100g hazelnuts, roughly chopped
200g sultanas, soaked in hot water for 30 minutes
5 eggs, lightly beaten
3 teaspoons vanilla extract
whipped cream, sweetened with a little caster sugar, to serve
method
Preheat the oven to 170°C/gas mark 3. Butter a 22cm square or round cake tin (buttering is not necessary if the 'tin' is silicone).
Cut the apples into quarters, then cut each quarter lengthways into 6 slices. Place in a bowl and gently mix in the lemon juice so that the slices are well covered.
In another bowl, beat the sugar and butter until light and fluffy. This can be done with a wooden spoon or electric whisk. Add the flour, hazelnuts, sultanas, eggs, lemon zest and vanilla extract. Using a large metal spoon, stir to combine.
Spoon the mixture into the prepared tin, then push in the apple slices so that they are just showing. Sprinkle a little granulated sugar over the top.
Bake in the middle of the oven for about 1 hour, or until a skewer or knife tip inserted in the centre of the cakes comes out clean. If the cake starts to brown too quickly, place a piece of foil or greaseproof paper over the top. Allow to cool a little in the tin and serve with the sweetened whipped cream.
This recipe features on p.310 of Sarah's Food for Friends and Family Cookbook.