liz's marzipan and dried cherry flapjacks recipe
Written by:

Sarah Raven

Last updated: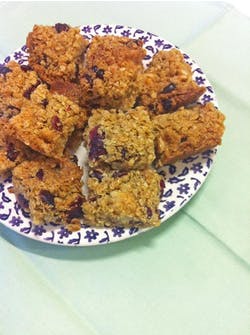 Liz Wood cooks course lunches in my school and is a bread, biscuit and pudding queen. The tartness of the dried cherries in these flapjacks prevents them from being too sweet, and the marzipan adds a hint of almond.
makes 16
180g butter
140g demerara sugar
2 tablespoons golden syrup
1 tablespoon honey
240g porridge oats
120g dried cherries
120g diced marzipan
Preheat the oven to 170°C/gas mark 3. Lightly grease a shallow 30 x 23cm baking tin.
Put the butter, sugar, golden syrup and honey in a saucepan and melt together, stirring all the while. Take off the heat. Add the oats, cherries and marzipan and stir well. Spoon into the prepared tin and smooth down with the back of a spatula.
Bake in the hot oven for 20-25 minutes, until lightly coloured. Keep an eye on them as they burn quickly once cooked. Leave to cool in the tin for 10 minutes or so, then cut into squares – you should get about 16. Transfer to a cooling rack. When cold, store in an airtight container.
This recipe features on p.98 of Sarah's cookbook, Food for Friends and Family.