elderflower cordial recipe
Written by:

Sarah Raven

Last updated: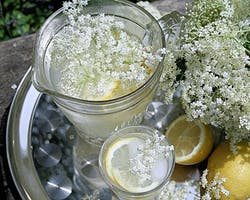 This excellent, not-too-sweet version of the classic cordial will keep for a long time to drink diluted by fizzy or still water right through the year.
for 2 x 750ml bottles
1.35kg granulated sugar
Flowers from 15–20 elderflower heads
2 oranges, thinly sliced
2 lemons, thinly sliced
2 limes, thinly sliced
30g tartaric (or citric) acid
Put 1.15 litres water and the sugar in a saucepan, and dissolve the sugar completely before bringing to the boil.
Add the flowers and return the water to the boil. Remove from the heat immediately.

Put the thinly sliced fruit into a large bowl or jug. Add the tartaric acid and pour over the hot syrup and flowers.
Stir well and cover loosely.

Leave for 24 hours.

Strain into warm sterilised bottles and seal. This keeps for a couple of months in the fridge. If you make plenty, pour some into plastic bottles and freeze. It will last for years.
This looks gorgeous in a classic Weck juice bottle, labelled with beautiful homemade stickers. It is a refreshing drink to have at a tea party or summertime picnic, along with a slice of cake.
This recipe featured in p.142 of Sarah Raven's Garden Cookbook