worton-style fried peppers recipe
Written by:

Sarah Raven

Last updated: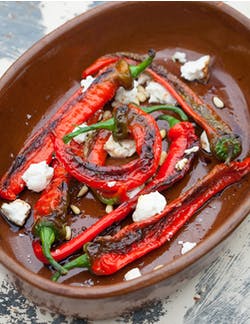 This Mediterranean style fried pepper dish from my favourite farmshop café has a good combination of flavours – the fruitiness of the peppers, with a mild tang but almost no heat; the sweetness of the balsamic vinegar; and creamy sharpness of the cheese. Use Red Horned peppers (if large, sliced lengthways into halves or quarters), Padron or Jimmy Nardello peppers. This is good with sourdough bruscetta, toasted, scraped lightly with garlic and drizzled with fruity extra virgin olive oil.
For 2
1 tablespoon olive oil
8-10 frying peppers
2 tablespoons of pine nuts
A slosh of balsamic vinegar
A pinch of Maldon salt
200g fresh goat's cheese
Heat the oil in a frying pan and add the peppers. Turn regularly with tongs, frying for about 7 minutes until all sides are beginning to blister.
Add the balsamic vinegar and salt straight into the pan so it sizzles and then pour out on a flat dish.
Scatter with pine nuts and finally crumble the goat's cheese on top.
Serve whole still warm to eat with a knife and fork.
This recipe featured in the Sarah Raven 2016 Calendar.