crisp courgette wedges recipe
Written by:

Sarah Raven

Last updated: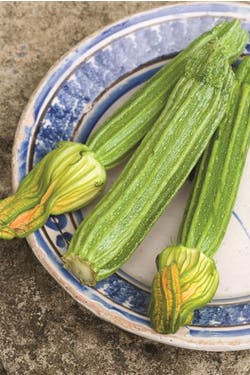 These crunchy courgette sticks are ideal for a starter, or for a party. Try them with basil or anchovy mayonnaise, or classic tartare sauce.
serves 4
200g bread for crumbs
4 anchovy fillets
Zest of 1 lemon
1 tablespoon grated Parmesan
1 egg, beaten
400g courgettes, cut into sticks approx. 7-8cm long
A little seasoned flour (salt, pepper and some dry English mustard)
Groundnut or sunflower oil
Make the breadcrumbs by combining the anchovy fillets with the bread in a food processor. Add the lemon zest and some Parmesan to the breadcrumbs.
You need three shallow bowls: one containing the seasoned flour, one the beaten egg and lastly the breadcrumb mixture. Dip the courgette batons first into the flour and then the egg and finally the breadcrumbs. Then shallow fry them – five or six only in the oil at one time – until they're golden, but still with a good bite.
These can easily be made in advance and heated briefly in a hot oven to crisp them up. They are wonderful dipped into anchovy mayonnaise.
Adapted from a recipe on p.120 of Sarah's Food for Friends and Family cookbook