Smoked haddock with Lord Dalrymple's top
Written by:

Sarah Raven

Last updated: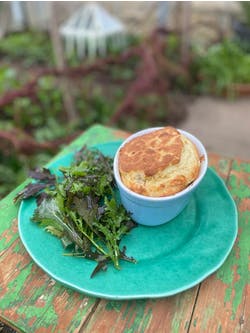 For an easy, push-the-boat out Saturday lunch, this is one of my family's favourites. It's an Edwardian recipe from my aunt Fortune Stanley's cookbook; English Country House Cooking
Serves 6 as a starter, 4 as a main course
300g undyed smoked haddock
60g butter
100g spaghetti, broken into small bits
75g plain flour
400ml full-fat milk
Salt and black pepper
1 tbsp Dijon mustard
Freshly grated nutmeg
6 eggs, separated
250g strong Cheddar cheese
3 tbsps finely grated Parmesan cheese
Method
Preheat the oven to 200°C. Butter 4 large or 6 small ramekins, or a 20 x 8cm soufflé dish.
Put the haddock in a shallow pan with a knob of butter and 1-2 tablespoons of water, and poach gently until just cooked (about 5 minutes).
Lift the fish out and flake into large pieces with a fork. Discard the skin.
Meanwhile, cook the spaghetti in boiling salted walter for 3 minutes. Drain and add to the haddock (the pasta finishes cooking in the dish).
Melt the remaining butter in a saucepan, add the flour and stir over a gentle heat for 1-2 minutes.
Add the milk and fish liquor. Season, add the mustard and cook for 3-4 minutes, stirring continuously until the mixture is the consistency of thick double cream.
Season again and add plenty of nutmeg.
Take off the heat and stir in the egg yolks, then the cheese. Fold in the fish and spaghetti.
In a clean bowl, whisk the egg whites into stiff peaks.
Stir in ⅓ of the fish mixture, then carefully fold in the rest with a metal spoon. Pur into the prepared ramekins or soufflé dish, not filling to the top.
Bake the ramekins for about 15 minutes, and the large dish for 20 minutes, until browned and risen.
Serve straight from the oven, with a bowl of purple sprouting broccoli, drizzled in lemon and anchovy dressing (click here for recipe), and a green salad.