lemon and anchovy purple sprouting broccoli recipe
Written by:

Sarah Raven

Last updated: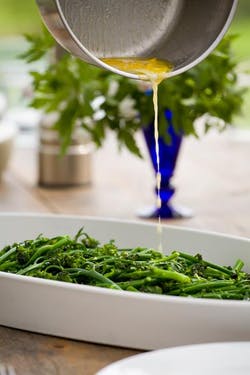 Purple sprouting broccoli is good just as it is, but this sharp dressing improves it. Served like this, it's great with a strong-flavoured casserole or fish dish. The key thing with any broccoli is not to over- or undercook it.
serves 4
350g purple sprouting broccoli, preferably tips, but larger stems will do
½ tin of anchovy fillets (about 25g)
2 garlic cloves, finely chopped
1 chilli, deseeded and finely chopped
50g butter
juice and grated zest of ½ lemon
black pepper
method
If using broccoli tips, remove the large outer leaves. If you have bigger stems, slice into 2cm-ish strands.
Cook the stem sections (if you have them) in boiling salted water for 3 minutes, then add the tips. Cover and cook for another 3 minutes. Drain.
Fry the anchovies gently in their own oil until they start to dissolve. Add the garlic, chilli and the butter and just heat through. Add the lemon juice and zest.
Arrange the broccoli in a large shallow dish or on individual plates (both warmed) and toss with the anchovy mixture. Season well with pepper. You shouldn't need salt.
Serve with any strong-flavoured casserole or fish.
This recipe features on p.394 of Sarah's Food for Friends and Family cookbook.