sweet-and-sour marinated cabbage recipe
Written by:

Sarah Raven

Last updated: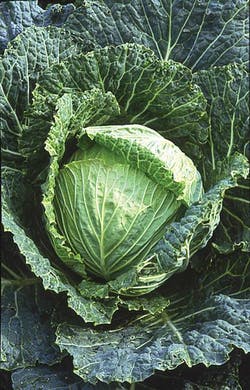 This pickle is northern European in origin and is good with warming, intense-tasting winter food. It goes well with smoked fish - trout or eel - and is ideal with a strong cheese.
The key to this treatment is the fine shredding of the cabbage and the large quantities of fresh dill, and dill (or fennel) and mustard seed, in the marinade. This dish needs to be made at least the day before you want to eat it, so that the flavours of the seeds really come through.
Serves 6
1/2 white or savoy cabbage
100ml cider vinegar
100g caster sugar
Large bunch of dill, finely chopped
3 tablespoons good sunflower oil
1 garlic clove, chopped
2 teaspoons dill, caraway or fennel seeds
2 teaspoons mustard seeds
Salt and black pepper
Cut your cabbage into quarters and remove the midrib, then slice the cabbage very finely. Use the green leaf only, not the stem.
Heat the vinegar in a small pan over a low heat and then stir in the sugar until it has dissolved. Allow this to cool.
Finely chop the dill. Add this and the oil, garlic, dill and mustard seeds, salt and pepper to the sweet vinegar and dress the cabbage with this marinade.
Leave in a jar or covered container at least overnight for the flavours to develop. This keeps very well in a screw-topped jar in the fridge and is excellent after 2-3 weeks.
This recipe features on p18 of Sarah Raven's Garden Cookbook