marni's salsify recipe
Written by:

Sarah Raven

Last updated: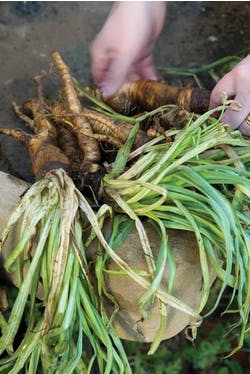 This is my grandmother Marni Hodgkin's favourite recipe for salsify, which came originally from Rosamund Richardson's book Definitely Different. Small chunks of the cooked root are tossed in a mix of garlic and parsley, and served sizzling-hot.
serves 4
675g salsify (or scorzonera)
salt and black pepper
50g butter
4 tablespoons good olive oil
2 garlic cloves, crushed
2 tablespoons finely chopped flat-leaf parsley
Clean and scrub the salsify and cut into chunks. Cook them unpeeled in a little boiling salted water in a covered pan for about 10 minutes, until just tender. Salsify has a waxy bite and is better soft than al dente. Rinse the salsify under cold running water, as this makes peeling easier, and peel.
Melt the butter with the olive oil and gently fry the garlic for a couple of minutes.
Add the salsify roots and toss them in the garlic butter mix. Sprinkle with lots of parsley and serve.
This recipe comes from p.438 of Sarah Raven's Garden Cookbook.