gooseberry tart recipe
Written by:

Sarah Raven

Last updated: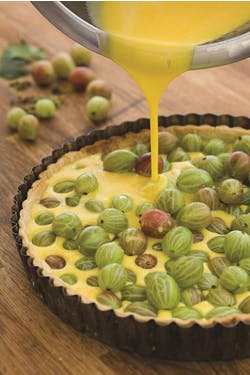 A tart of sharp, delicious just-cooked gooseberries in a very light pastry.
serves 6
450g gooseberries
3 eggs
100g caster sugar
284ml double cream, plus more to serve
1 teaspoon vanilla extract
Icing sugar, for dusting
for the pastry
150g plain flour
50g caster sugar
75g very cold, unsalted butter
1 egg yolk
A little ice cold water
Preheat the oven to 180c/gas mark 4.
Make the pastry by briefly processing the flour and sugar together. Chop the cold butter into chunks and add to the flour and sugar. Pulse carefully or rub in by hand until the mixture resembles breadcrumbs, and put into a mixing bowl. Mix the egg yolk with a little ice-cold water, add to the bowl and mix with your hands until the pastry comes together in a soft ball. Roll out onto a floured surface and use to line a 25-26cm flan tin. Chill for half an hour in the fridge.
Top and tail the gooseberries. In a bowl mix the eggs, caster sugar, double cream and vanilla extract.
Remove the pastry from the fridge and pierce the base with a fork. Cover with greaseproof paper and baking beans or rice and bake blind for about 10-15 minutes, until golden. Take from the oven, leaving it on, remove the beans or rice and paper, and allow it to cool slightly.
Fill with the gooseberries and pour over the egg mixture. Bake in the oven for about 30 minutes, until just firm in the centre. Dust with icing sugar and serve warm with thick cream.
This recipe appears on p.214 in Sarah Raven's Garden Cookbook.