crispy cumin and caraway squid recipe
Written by:

Sarah Raven

Last updated: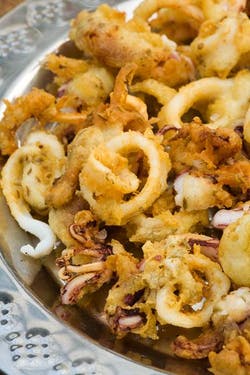 The fragrant tastes of cumin and caraway are delicious with squid. This has to be eaten hot, so for a party have everything ready beforehand and fry the calamari at the last minute.
serves 12-15
1 tablespoon cumin seeds or caraway seeds
Sunflower oil, for frying
1kg calamari, cut into rings and tentacles divided into 2 or 3
Salt and black pepper
3 lemons, cut into chunks
Chilli dipping sauce, to serve
for the batter:
150g plain flour
1-2 tablespoons extra virgin olive oil
Warm water
3 egg whites
Toast the seeds for a couple of minutes in a dry frying pan, then crush them using a pestle and mortar.
To make the batter, sift the flour into a bowl, and add the seeds. Pour in the olive oil and mix with the flour. Slowly add the warm water to loosen this paste, stirring all the time until you have the batter the consistency of double cream. Leave in the fridge for 45 minutes. Just before cooking, beat the egg whites until stiff and fold gently into the batter.
Pour the sunflower oil into a high-sided pan, up to a third of the way up the side. Heat the oil until very hot (180°C). If you don't have an oil thermometer, drop a cube of bread into the oil – it should turn golden brown in less than a minute.
Dip the squid rings into the batter and fry them in small batches until golden brown and crisp. This is likely to spit, so make sure you stand well back as you put the squid in, or better still, use a spit guard. Drain on kitchen paper and sprinkle with salt and pepper. Serve straight away with chunks of lemon.
This recipe appears in Sarah's Complete Christmas book.