braised chicory recipe
Written by:

Sarah Raven

Last updated: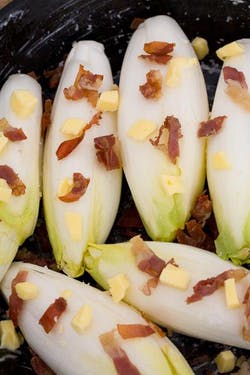 This braised chicory recipe is an excellent quick winter dish. Braised chicory is delicious eaten on its own with crusty bread dipped in the lemony cream. It's also good with grilled, roasted or barbecued pork or veal.
serves 6
1kg Belgian chicory
200g prosciutto, chopped
Salt and black pepper
50g unsalted butter
A little water or white wine
Juice of 1 lemon
275ml double cream
Butter an ovenproof dish which has a lid. Arrange the whole chicons in the dish, scattering over the chopped prosciutto. Season with salt and pepper, and dot with butter.
Cover the dish with a sheet of greaseproof paper under the lid and either sweat over a low heat, turning from time to time, or bake in a low oven for 40 minutes until the chicory is tender and lightly browned. Check it from time to time to make sure there is enough moisture and add a little water or white wine if necessary.
Once it's cooked, add the lemon juice and cream – swirling them around the chicory – and serve with more coarsely ground black pepper.
This recipe is featured on p25 of Sarah Raven's Garden Cookbook