understanding dahlia groups
Written by:

Sarah Raven

Last updated: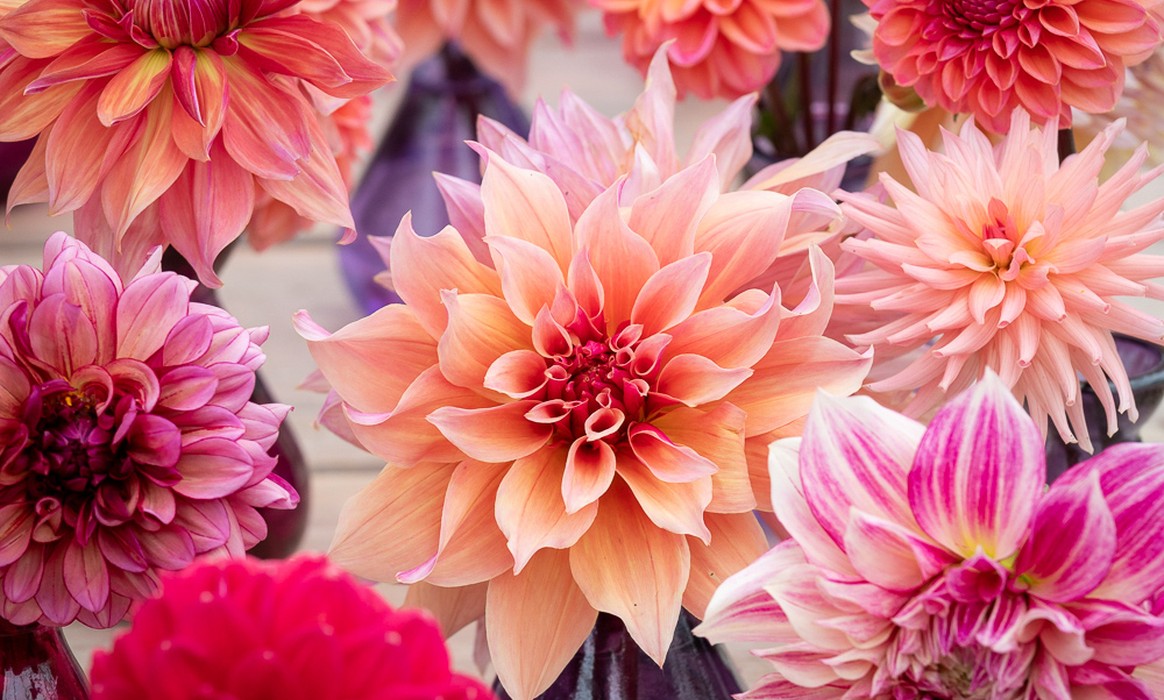 Below is a list of the different dahlia groups, along with some classification info and an example of a variety in each group. Classification of dahlias is rather complicated, as there are over 50,000 different varieties of dahlias available hybridised all over the globe by different growers. So you'll find that different websites list things in slightly different ways; we've listed the main groups below and then the smaller groups under Miscellaneous.
single-flowered

The flower has a central disc with a single ring of petals encircling it.

The petals may be rounded or pointed.

e.g. Dahlia 'Roxy'.

See all of our Single-flowered dahlias here.
waterlily

This type has fully double blooms made up of curved, slightly curved or flat petals.

Very shallow in depth compared with other dahlias giving an almost saucer like appearance.

e.g. Dahlia 'Gerrie Hoek'.

See all of our Waterlily dahlias here.
collarette

This type has large petals which form an outer circle around a central disc.

The collar term comes from a smaller circle of much smaller petals closer to the centre.

e.g. Dahlia 'Night Butterfly'.

See all of our Collarette dahlias here.
anemone

The centre comprises of dense elongated tubes rather than a disc.

The outer parts have one or more rings of flattened petals.

e.g. Dahlia 'Sarah Raven'.

See all of our Anemone dahlias here.
pompom

These are fully double and resemble perfect miniature spheres.

They are made up entirely from petals that are curved inwards.

e.g. Dahlia 'Vino'.

See all of our Pompom dahlias here.
ball

These have a spiral arrangement of incurved petals forming a ball shaped flower.

They are larger than pompoms.

e.g. Dahlia 'Linda's Baby'.

See all of our Ball dahlias here.
semi-cactus

Semi-cactus dahlias have fully double blooms with very pointed petals.

They are almost spiky in appearance.

e.g. Dahlia 'Indian Summer'.

See all of our Semi-cactus dahlias here.
cactus

Similar to semi-cactus, but with narrower petals.

This also includes Fimbriated Cactus dahlias.

e.g. Dahlia 'City of Leiden'.

See all of our Cactus dahlias here.
decorative

Broad and flat petals, normally bluntly pointed, with no central disc showing.

e.g. Dahlia 'Con Amore'.

See all of our Decorative dahlias here.
miscellaneous

Orchid-flowered and Peony-flowered types are classified as miscellaneous.

Also, Double Orchid-flowered, Bishop, Mini Bishop and Star Dahlias.

e.g. Dahlia 'Julie One' (Double Orchid).

See all of our Miscellaneous dahlias here.
Browse our full range of dahlia tubers. Each individual variety will state the Group it is in under the 'More Details' section.
related articles: