herb salad with halloumi and chorizo recipe
Written by:

Sarah Raven

Last updated: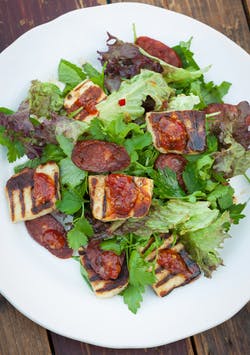 This is at its best with the halloumi and chorizo straight out of the pan, so get everything ready and then cook them both last.
for 6 as a starter (or 4 as a main)
chilli jam
Find recipe here.
for the salad
300g halloumi cheese (allow about 50g per person)
Ras-el-hanout spice mix
1 chorizo
Zest and juice of 1 lemon
Good bunch of spring herbs - mint, (this is key), dill, basil, coriander, sorrel and parsley – some or all (discard any woody stems, but don't chop, the leaves look and taste lovely kept whole)
2 heads of cos lettuce, washed and sliced into ribbons
for the dressing
4 tablespoons extra virgin olive oil
2 tablespoons lemon juice
1 clove of garlic, grated
Sea salt and black pepper
First make the chilli jam – following the instructions in the recipe link above, it really is quick and easy, and we've got a video tutorial you can watch too.
Rinse the halloumi under cold water and pat dry with kitchen paper (this removes the extra saltiness. Cut the halloumi into slices, just under 1cm in thickness and coat in the spice. Heat a griddle or heavy based frying pan until you can't count to 10 with your hand hovering above it. Cook the halloumi until golden brown on each side.
Slice the chorizo quite thinly and fry in its own fat. Remove with a slatted spoon, when beginning to brown and lay out on kitchen paper. Dress with the lemon juice and zest while still warm.
Meanwhile mix together the herb and lettuce and lightly dress. Toss with your hands – the best way to get every leaf coated in the lightest amount of dressing. Lay out the mixed leaves on each plate and top with 4 slices of halloumi, with a little dollop of chilli jam on each and finally the chorizo.
This recipe featured in the Sarah Raven 2015 Calendar.