haddock, beetroot and leek bake recipe
Written by:

Sarah Raven

Last updated: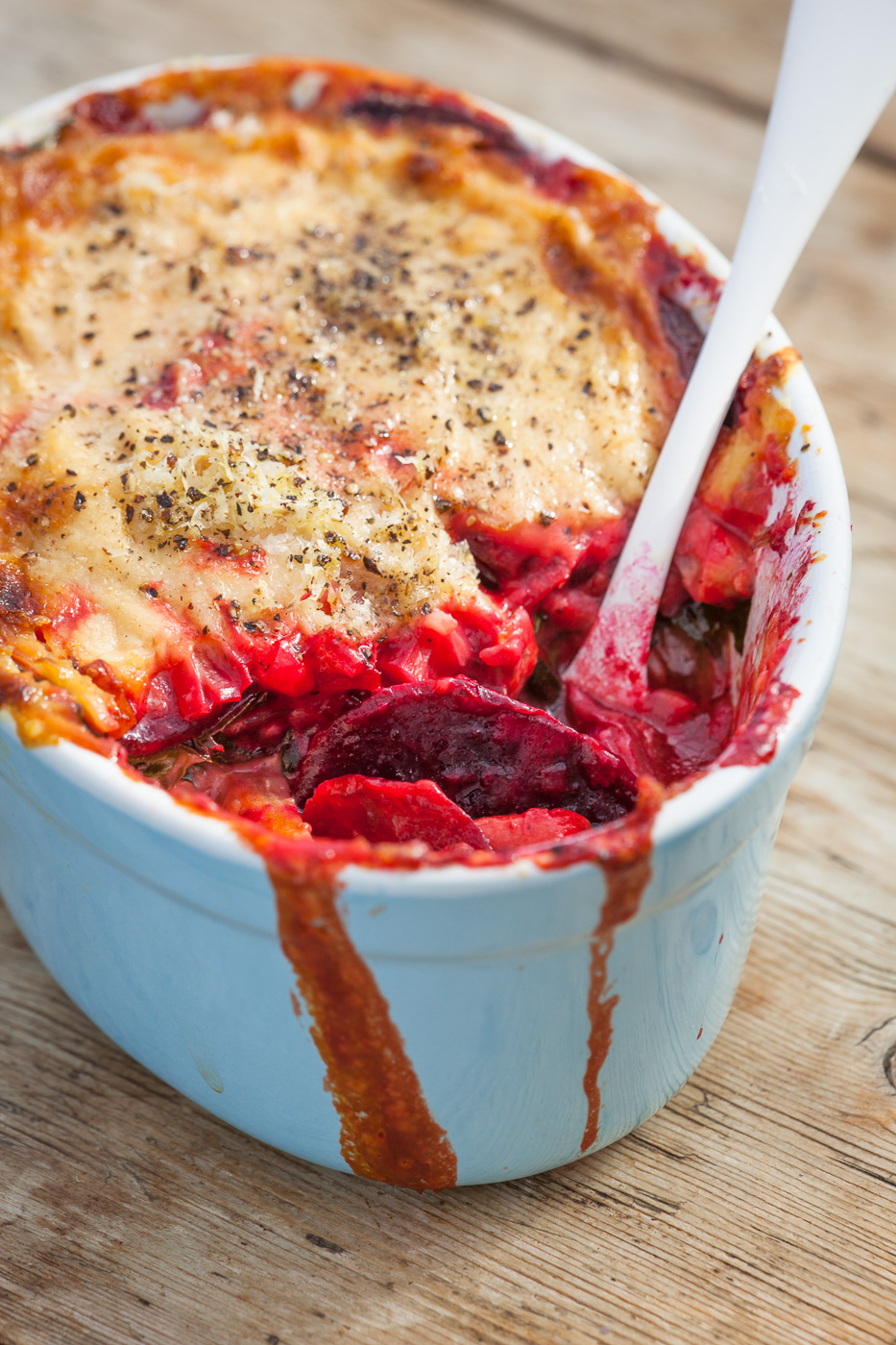 One of my favourite autumn comfort food dinners – delicious with a simple salad, or steamed kale or broccoli dressed with good olive oil.
serves 4
400g beetroot
2 tablespoons olive oil
100g leek, finely chopped
275g smoked undyed haddock
425ml milk
50g butter
1 tablespoon flour
1 teaspoon English mustard
Nutmeg, grated
Freshly ground black pepper
100g mature Cheddar (or less if you want to reduce calories and in which case, increase the mustard)
800g fresh spinach or chard
Parmesan, grated
Flaky salt and pepper (to taste)
Preheat the oven to 180˚C/gas mark 4.
Peel and slice the beetroot into 3mm discs (you can use a mandolin). Drizzle with 1 tablespoon olive oil and season with a little salt and freshly ground black pepper. Roast in the oven for 20-25 minutes until the beetroot is beginning to soften and starting to curl at the edges.
Fry the leek in the remaining oil until soft.
Heat the milk in a saucepan and when just beginning to bubble, add the smoked haddock. Remove from the heat and allow to cook in the hot milk for 5 minutes. Remove the haddock from pan, skin (if needed) and set the milk to one side.
Melt the butter in a saucepan over a medium heat, stir in the flour then stir in the poaching milk in a steady stream until it is all incorporated and simmer gently until the flavour of the flour has gone. Add a grating of nutmeg, mustard and a plenty of black pepper then the Cheddar and finally the leeks. Mix until well combined and remove the pan from the heat.
Blanch the spinach, drain, allow to cool slightly and then squeeze to remove as much water as possible. Coarsely chop.
Put a layer of beetroot in the bottom of an ovenproof dish, spoon over some sauce then add a layer of flaked haddock and spinach. Repeat these layers, finishing with a layer of sauce and a scattering of freshly grated parmesan.
Bake in the oven for 20 minutes, or until golden-brown.
This recipe featured in the Sarah Raven 2016 Calendar.
you may also like: