understanding the 15 different tulip groups
Written by:

Sarah Raven

Last updated: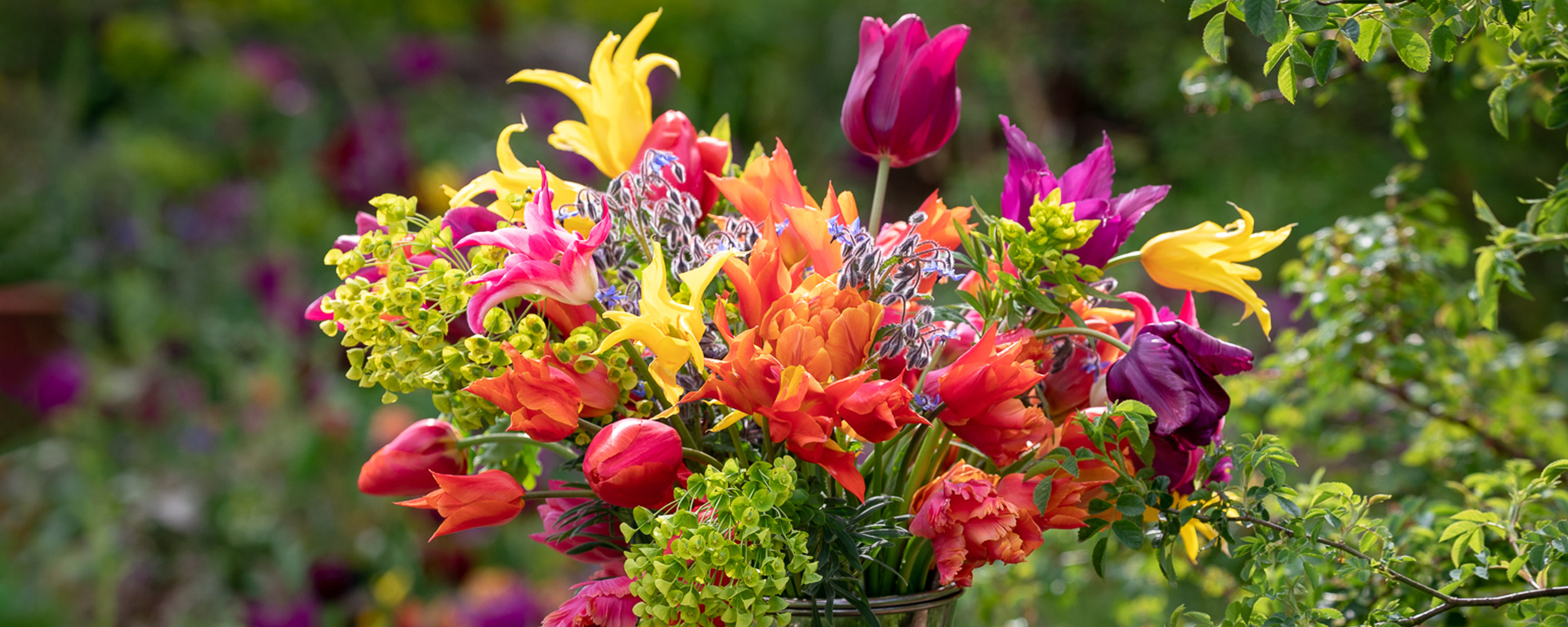 Below is the full list of the different tulip groups, with a little specification, as well as an example. We hope from this you can learn a bit more to help you pick the tulip that's right for you.
Single Early
Single flowered cultivars, these have cup-shaped flowers approx 7.5cm wide and are some of the earliest to flower.
E.g. Apricot Beauty
Double Early
Double-flowered cultivars, mainly short-stemmed and early-flowering. Very good long lasting properties, most suitable for cut flowers.These have double, peony like flowers approx 7.5-10cm wide.
E.g. Exotic Emperor
Triumph
Single-flowered cultivars, stem of medium height, flowering in mid-season. Originally the result of hybridization between cultivars of the Single early group and the Single late group – also known as Mid-season tulips. Another variety with good lasting properties.These have conical flowers and are more rounded, up to 7.5cm wide.
E.g. Jan Reus
Darwin
Single-flowered cultivars, long-stemmed, flowering in mid-season (April/May). Originally the result of hybridization between cultivars of the Darwin group with Tulipa Fosteriana, and the result of hybridization between other cultivars and botanical tulips. They have habits similar to that of the Fosteriana. These have huge, goblet-like flowers up to 15cm across.
E.g. Design Impression
Single Late
Single-flowered cultivars, mainly long-stemmed and late-flowering. This group includes such tulips as those from the former Darwin and Cottage Type groups. Versatile with large flowers on strong stems. These have oval to almost squarish flowers (often with pointed petals).
E.g. Red Georgette, Bruine Wimpel
Lily-flowered
Single-flowered cultivar, flowering mid-season or late, stem length varies. These have long, slim flowers with pointed petals flaring out at their tips (like a Lily, hence their name), approx 15cm across.
E.g. Sapporo, Ballerina
Fringed
Single-flowered cultivars, petals edged with crystalline fringes, flowering mid-season or late. Stem of variable length.
E.g. Purple Tower
Viridiflora
These are distinguished by having green streaks or markings on their petals and are normally late flowerers. There are only about 50 or so of these types of tulips.
E.g. Flaming Spring Green, China Town
Rembrandt
Cultivars with broken flower colours; striped or marked with brown, bronze, black, red, pink or purple, on a red, white or yellow background. Cause of markings is a non-spreading virus infection. Long-stemmed.
E.g. Absalon
Parrot
Cultivar with unusual fringed, curled and twisted petals. Mainly late-flowering. Stems of variable length. These have large flowers can also be bi-coloured.
E.g. Rococo
Double Late / Peony-flowered
These have large, fully double flowers up to 12cm wide.
E.g. Double Maureen
Kaufmanniana Hybrids
One of the most permanent tulip varieties. These have water-lily like flowers which flatten out when open and can be bi-coloured and/or have striped or mottled leaves.
E.g. Hearts Delight
Fosteriana Hybrids
These have many cultivars, subspecies, varieties and hybrids. Early-flowering variety with broad leaves which can be sometimes mottled or striped. Stems medium to long. These have slender flowers when closed which open up to approx 18-20cm in full sun.
E.g. Purissima
Greigii Hybrids
Usually marbled or striped foliage, flowering later than those in the Kaufmanniana group. Leaves usually spread out and bend down toward the ground. Almost permanent variety, coming up year after year. These have large brightly coloured flowers.
E.g. Red Riding Hood
Species
Perennial species of tulip, they are also known as Botanical Tulips.These are smaller and more delicate than modern hybrids, but are normally very hardy and long lived.
E.g. whittallii

Browse our collection of tulip bulbs to discover your own favourites. On each of our Tulip product pages you'll see the 'Group' listed in the further details section.