tuna tagliata recipe
Written by:

Sarah Raven

Last updated: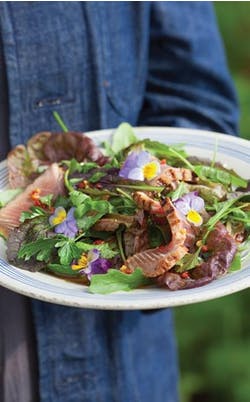 This is an adaptation of a classic recipe usually made with beef. I like the tuna seared quickly, so the outside is cooked with the centre only just warm, but you can cook it more if you prefer. Try this also with salmon, boned chicken thighs, or chunky slices of sweet potato.
Serves 6 as a main course, 8 as a starter
600g fresh tuna (in a whole piece)
4 large handfuls of mixed pepper spring salad leaves, such as watercress, mizuna, rocket, or any of the mustards
1 large handful of coriander, (about 30g), leaves and stems coarsely chopped
For the marinade:
100ml soy sauce
1 heaped tablespoon Thai fish sauce
1 heaped tablespoon fresh ginger (a good thumb), peeled
1 red chilli, deseeded
2 garlic cloves
1 tablespoon coriander seeds, toasted and ground down
50ml olive or sunflower oil
For the oriental dressing:
3 tablespoon soy sauce
1 tablespoon Thai fish sauce
1 lime, juice and zest
1 level tablespoon chopped fresh ginger
1 red chilli, deseeded and chopped
1 garlic clove
Good handful of fresh coriander leaves
Sunflower oil
Maldon salt and black pepper
Lemons or limes to serve
Edible viola flowers to decorate (optional)
For the marinade, put the soy and fish sauce, ginger, chilli, garlic, coriander seeds and sunflower oil in a blender and process until smooth. Put this into a high-sided container, add the piece of tuna and leave for several hours (or overnight) covered in the fridge, turning from time to time.
Bring the fish to room temperature and preheat the oven to 220°C/gas mark 7. Heat a ridged griddle pan (or heavy based frying pan) for 3-4 minutes (until you can't count to 10 with your hand hovering just above it). Rub a little olive oil over the loin of tuna and place on the heated griddle; over a high heat cook for 2 minutes on each side, or for 1 minute longer if preferred. Allow the tuna to cool a little, then using a sharp knife, slice the tuna into 1cm slices. It's nice to cut it so that you see the griddle marks.
Combine all the dressing ingredients and season to taste. Drizzle most of the dressing over the leaves and toss. Serve onto individual plates, topped with 3 or 4 tunas slices. Finish with an extra drizzle of dressing and a sprinkling of viola flowers or fresh coriander leaves on the top. Served with quartered limes or lemons.
This recipe featured in Sarah Raven's 2014 Calendar