toad-in-the-hole with sage and red onions
Written by:

Sarah Raven

Last updated: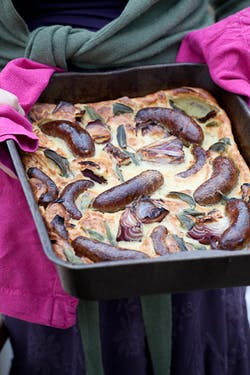 This makes the best toad-in-the-hole in the world. The sweetness of the onion and the smokiness of the sage are great additions. Serve with mashed potato and onion gravy and stir-fried cabbage.
Serves 4
1 tbsp olive oil
8 large pork sausages or chipolatas (about 640g)
1 large red onion, cut into eighths
8-10 fresh sage leaves
For the batter
180g plain flour
2 eggs
Good pinch of salt
Black pepper (to taste)
350ml semi-skimmed milk
For the gravy
1 onion, finely chopped
30g butter
1 tbsp olive oil
1 x 400ml tin of beef consommé
Slurp of red wine
Preheat the oven to 200°C/gas mark 6.
Put the oil and sausages into a 40 x 30cm high-sided roasting tin and cook in the oven for 10 minutes.
Meanwhile, make the batter by putting the flour, eggs, salt, black pepper (a couple of grindings) and milk into a large mixing bowl. Whisk for a few minutes until there are no lumps. Put to one side to rest.
Take the sausages out of the oven and turn up the temperature to 230°C/gas mark 8. After 10 minutes, put the sausages back in the oven for 5 minutes, then pour the batter over them (leaving 2 tbsp for the gravy). Scatter the onion chunks and sage leaves evenly over the top. Bake for a further 25 minutes, until nicely browned and well risen.
To make the gravy, sauté the onion in the butter and olive oil until soft. Add the consommé and wine and reduce over a gentle heat for 5 minutes. Stir in the remaining batter to thicken. Serve with the toad.
This recipe features on p389 of Sarah Raven's Food for Friends and Family Cookbook.