Teresa's fresh cottage pie
Written by:

Sarah Raven

Last updated: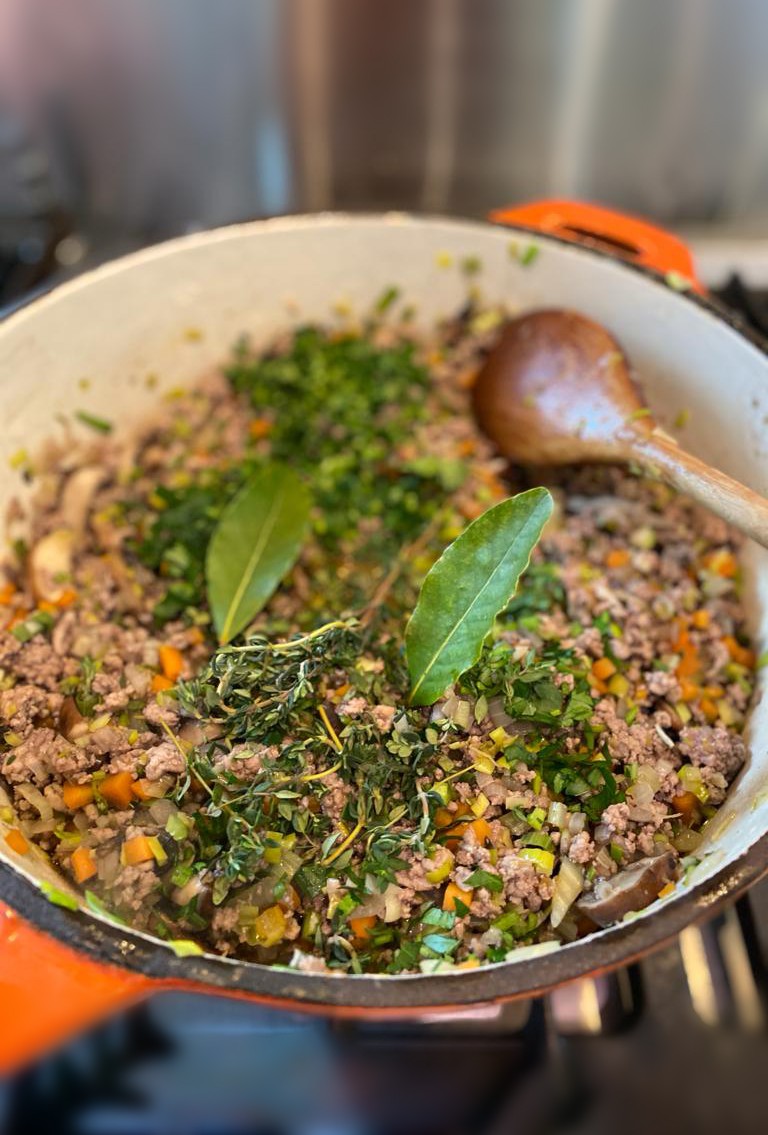 There are a million recipes for cottage pie, but of all I've tried, this is the best – a recipe from Teresa Wallace, who has given me huge help, reading and commenting on every recipe in this book. This pie is bigger on vegetables than the traditional pie, making it less dense and very full of flavour. It's ideal for a big weekend winter lunch, served with boiled purple sprouting broccoli and Slow-roast carrots.
serves 4-6
2 medium onions, chopped
Olive oil
2 garlic cloves
100g brown mushrooms, sliced
2 medium carrots, peeled and finely chopped
2 medium leeks, finely chopped
1 or 2 sticks of celery, finely chopped
500g best minced beef or 250g each of pork and lamb mince
1 teaspoon tomato purée
2 teaspoons plain flour
150ml red wine
1 bay leaf
1 sprig of thyme
A few stalks of flat-leaf parsley, chopped
Salt and black pepper
Splash of soy sauce (optional)
Pinch of cayenne pepper (optional)
For the topping:
About 500g floury potatoes, boiled, dried and mashed with plenty of butter and hot milk
Several small knobs of butter
method
In a casserole, fry the onions gently in a little olive oil for 5 minutes. Add the garlic and mushrooms and the rest of the finely chopped vegetables and cook for a further 5 minutes.
Add the meat, stirring to break it up, and brown a little. Add the tomato purée. Sprinkle on the flour and stir until absorbed.
Pour in the wine and enough water to ensure a slightly sloppy texture. Tuck in the herbs, season, then cover and cook very gently for 1 ½ hours.
By this time the mince should be dark brown and of a thickish consistency. Taste for seasoning – you can add some soy sauce and a sprinkle of cayenne if it needs zipping up. Remove the thyme and bay leaf.
Leave to cool for 20–30 minutes. While the mince is cooling, make the mashed potatoes.
Swirl the mashed potatoes on top of the meat using the back of a spoon (this looks nicer than fork marks). Scatter some knobs of butter over the top and it's ready for reheating (at 170°C/gas mark 3 for 20–25 minutes) when you want it.
You can make 2 or 3 pies at once as they freeze brilliantly.