stuffed butternut squash with creamy goat's cheese recipe
Written by:

Sarah Raven

Last updated: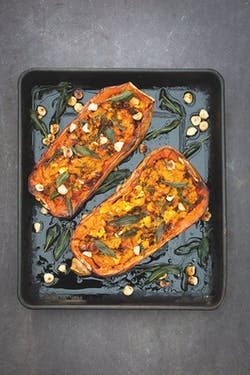 The shape, colour, texture and taste of this dish make it a good all-rounder in autumn and winter. The skin of the butternuts is thin, so once cooked, you can eat this too and then you'll get all the nutrients and antioxidants concentrated just below the skin. I also like small stuffed butternut squash as side veg, but leave out the cheese.
For 2 as a main, 4 as a side dish
1 butternut squash (about 1kg)
1 tablespoon cold-pressed rapeseed oil
100g soft goats' cheese, crumbled
About 12 sage leaves, finely chopped
Small bunch of chives, finely chopped
100g hazelnuts, dry-fried and chopped
Sea salt and black pepper
To serve
1 tablespoon cold-pressed rapeseed oil
About 20 small sage leaves
30g hazelnuts, dry-fried and chopped
Cut the squash in half lengthways, but leave the seeds – they're easier to remove once cooked. Place on a lined baking tray, cut-side up. Drizzle with the oil. Roast for 50-60 minutes, or until the flesh is soft when pierced with a sharp knife. Allow to cool for a few minutes.
Using a spoon, scoop out the seeds, then carefully remove the flesh from the squash, leaving a 1 cm rim next to the skin. Mash the squash flesh in a bowl with all the rest of the ingredients. Divide the stuffing between the two halves, then bake in the oven for 20 minutes or until the filling is turning golden on top.
When ready to serve, heat the oil and gently fry the sage leaves until curling at the edges. Pour the sage leaves and their oil over the cooked squash and scatter over the hazelnuts.