stilton and celery tart recipe
Written by:

Sarah Raven

Last updated:
This delicious stilton and celery tart tastes wonderfully fresh with seasonal produce. It's a perfect alternative to a standard cheese quiche, and will impress your friends and family.
Serves 6-8
30g butter
Splash of olive oil
1 large onion
3 whole celery hearts, finely sliced
15 sage leaves, finely chopped, plus 10 whole small leaves for decoration
Juice and grated zest of ½ lemon
250g Stilton cheese
3 whole eggs
1 x 284ml carton of double cream
For the shortcrust pastry:
200g plain flour
Pinch of salt
100g butter
Make the pastry. Sift flour and salt, then rub in the butter until breadcrumb-like. Add enough cold water to bind together. Form into a ball, wrap in cling film and put in the fridge for at least 1 hour.
Preheat the oven to 180°C/gas mark 4 and heat a baking sheet until searing hot. Grease a 29cm loose-bottomed tart tin. Roll the pastry to 3–4mm thick. Line the tin, leave the excess pastry over the sides in case it shrinks. Prick the pastry with a fork, line with greaseproof paper and weigh this down with baking beans. Place on the hot baking sheet and bake for 15 mins. Remove the paper and beans and return the pastry case to the oven for another 5 mins. Take out of the oven and trim off the excess pastry. Keep the oven on and reheat the baking sheet.
Fry the onion, celery and chopped sage very slowly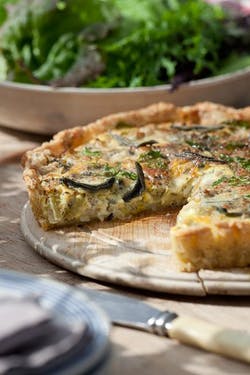 in butter and oil for 10–15 mins. Add the lemon juice and zest. Fill the pastry case with the mixture and crumble over the Stilton. Mix the eggs and cream and pour over. Scatter with sage leaves, pushing them down into the tart a bit. Cook in the oven for 35 mins, until browned.
Enjoy with a serving of homegrown salad greens and some sliced fresh vegetables.