split pea and mint croquettes recipe
Written by:

Sarah Raven

Last updated: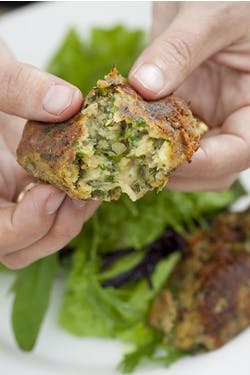 Healthy, sustaining and absolutely delicious. I love this sort of imprecise recipe (from Crete) where you can suit yourself, adding mint one time and cumin the next. The sauce is equally delicious using sorrel instead of mint.
Makes 12-15 croquettes
340g yellow split peas
3 garlic cloves
2 onions, 1 cut into quarters and 1 very finely chopped or grated
Olive oil
Large bunch of fresh mint, chopped, or 1 tablespoon of cumin seeds, dry-fried and ground
40g breadcrumbs
100g hard sheep's cheese, such as Manchego or Pecorino, grated
1 egg
1 red chilli, deseeded and chopped (optional)
Salt and black pepper
Flour, for dusting
For the sauce
200g natural yoghurt
Large bunch of fresh mint, roughly chopped
2 garlic cloves, finely chopped
Put the split peas in a pan with the garlic, quartered onion, a good slurp of olive oil and 750ml water. Cook, stirring occasionally, until the split peas disintegrate into a purée with a bit of texture, not smooth (about 20-25mins). You can add more water if it is too dry, and more olive oil to taste. Leave to cool. You could do this stage the day before.
Mix the cold purée with the finely chopped onion, chopped mint, breadcrumbs, cheese, egg, chilli, salt and pepper. Mix well and shape into croquettes. Dust in flour and fry in hot olive oil until golden brown on both sides. Drain on kitchen paper to absorb any excess oil.
To make the sauce, mix the yoghurt, mint and garlic in a food processor with just enough water to give the consistency you want – usually in the region of 100ml.
This recipe features on p119 of Sarah's Food for Friends and Family cookbook