Sarah's Superfoods: Kale recipes
Written by:

Sarah Raven

Last updated:
The recipes in this article first appeared in Country Living in January 2015.
---
Healthy eating is a vast subject and a lot of what we read about it is contradictory. First, one study tells us there are definite benefits to eating seven or even ten vegetable or fruit portions (80g each) every day; the next says "no – we're still safe with five." As an ex-doctor, I want to ignore the fads and focus on truly exceptional good foods that we should include in our diet as much as possible – and suggest the most nutritious way to eat them.
I have gathered information from medical journals, research centres and nutritionists, and, based on what I've found, distilled my list to a month-by-month collection of 12 fruits and vegetables, from kale and blood oranges to tomatoes and beetroot, which, in my opinion, reign supreme. Research suggests they may help to protect us against a wide array of cancers, inflammatory diseases such as rheumatoid arthritis, different forms of cardiovascular disease and strokes, as well as Alzheimer's or Parkinsons.
My aim is to give each of these fruits and vegetables a new lease of life in your kitchen, so you'll be rushing out to grow, pick or buy them, and relish their goodness.
I was completely put off kale at school, where we were given it twice a week for lunch all the way through winter and spring. It was dolloped out, overcooked and soggy, yet with the stem still fibrous – it was like eating a shard of bamboo.
Kale is often badly cooked (unless it's young, you have to remove the stem), yet the school was right in attempting to get as much into us as it could. There is now a huge amount of evidence that this brassica, along with broccoli (more on that later in the series), is one of the healthiest ingredients on the planet, topping the nutritional charts. Eating it at the right time of year is important for good flavour. In the summer, warm weather and lack of water give kale a very strong, sometimes bitter flavour, whereas the cold, damp and dim light of winter result in a milder taste and creamier texture, whether you choose the elegant crimson 'Redbor' or pewter-grey 'Nero di Toscana'.
Kale is an important source of calcium, which helps to prevent osteoporosis, while the leaves contain vitamin K and A and are rich in fibre. Another measure of its healthiness is its ability to remove certain free-floating molecules (free radicals) from our system. Free radicals have been implicated in a wide range of diseases, so the more of them that we can get rid of the better. Antioxidants are compounds in food that can combat them and kale is packed with these. Free radicals are also bad for our skin and decrease elasticity, which causes fine lines and wrinkles, especially at this time of year. So now is the perfect time to grow to love kale...
This article includes five recipes:
---
SEAWEED AND VINEGAR KALE CRISPS
Preparation 10 minutes. Cooking 30 minutes.
Rather than using an intense burst of heat, here the kale is gently cooked so that many of the leaves' active compounds are left intact. It's still crispy and delicious, flavoured with sweet balsamic vinegar and seaweed.
Serves 4 as a snack
200g curly kale 'Nero di Toscana' (cavolo nero), 'Pentland Brig' or 'Redbor'
2 tbsp extra-virgin olive oiL
1 tbsp balsamic or sherry vinegar
½ tbsp ground, dried dulse (maraseaweed.com)
Heat the oven to 110°C (100°C fan oven) / gas mark ¼ or the lowest setting you can.
De-rib the kale and tear it into rough pieces. Wash, then dry thoroughly using a lettuce spinner.
Put the kale into a large bowl, add the olive oil and massage it into the leaves for a minute. Add the vinegar and seaweed and mix with your hands again.
Spread the kale in a single, non-overlapping layer on two baking trays lined with silicone sheets to prevent it sticking (if you don't have one, give the kale a good shake a couple of times during cooking). Cook in the oven for 25-30 minutes, swapping the trays from top to bottom after 15 minutes and checking after 25 minutes whether it has crunched up. (If you have a range cooker or Aga, cook it overnight in the coolest part of the oven.) Remove and leave until almost cool before serving in bowls.
---
KALE, MUSHROOM AND LENTIL PILAF
Preparation 35 minutes. Cooking about an hour.
A vegetarian replacement for one of my favourite dishes – lamb's kidneys with parsley and lentils – this is hearty, filling winter food. Use chestnut mushrooms as they don't collapse on cooking, or button mushrooms left whole, oyster or large flat field mushrooms. Their meaty texture and taste work perfectly with the other ingredients' warm, earthy flavours.
Serves 8
250g Le Puy green lentils, rinsed
1 red onion, finely chopped
2 garlic cloves, crushed
3 tbsp extra-virgin olive oil
1 red chilli, finely chopped
3 bay leaves
large sprig of fresh thyme
1 tbsp ground, dried dulse seaweed (maraseaweed.com)
250ml red wine (or 1 tin of tomatoes to give necessary acidity)
250ml vegetable stock or Star ai Funghi Porcini stock cube (found in the speciality food aisle of the supermarket)
300g kale
500g chestnut mushrooms (or mix with oyster and flat field mushrooms) quartered or cut into sixths or eighths, not sliced
100g bunch flat-leaf parsley, coarsely chopped
150g crème fraîche (optional)
splash of balsamic vinegar
4 x 100g cakes of goat's cheese
a little ground dried pepper dulse
a few edible petals
Put the lentils in a pan, cover them generously with cold water and bring to the boil. Simmer for 5 minutes. Drain and rinse to remove the indigestible starches. Set aside.
In a heavy-based pan, sauté the onion and garlic over a gentle heat in 1 tablespoon olive oil until soft. Add the par-cooked lentils, chilli, bay, thyme and most of the dulse and stir briefly.
Pour in the wine (or tomatoes, if using) and stock. Cover and simmer gently for 30-40 minutes until the lentils begin to soften but not collapse. Add a little more wine or water if necessary to prevent them from boiling dry,but don't drown them. Remove the thyme stems.
Remove the stems from the kale and chop the leaves into strips. Steam them for 5 minutes. Allow to cool a little, then chop into strands.
Put the mushrooms in a large frying pan and cook gently in the remaining olive oil, sprinkled with a little dulse (to replace salt), stirring occasionally for 10-15 minutes until they start to brown.
Add the mushrooms to the lentils and mix in most of the parsley. Stir in the crème fraîche (if using) loosened with a splash of boiling water, followed by the balsamic vinegar.
Halve the goat's cheese cakes and grill or bake them for a few minutes to warm through until they start to melt and brown. Dust with a little pepper dulse (it has a truffle-like flavour).
Serve the lentils on individual plates, each topped with a warm melting goat's cheese, or present on one large platter, with all the cheese arranged on top. Scatter with the remaining parsley and a few edible petals.
---
KALE, MUSHROOM AND SWEET POTATO FRITTATA
Preparation 25 minutes. Cooking about 45 minutes.
Egg, kale and sweet potato – three good things, in one sustaining, protein-rich, super-easy dish. Orange-fleshed sweet potatoes are vitamin A (carotene) superstars and are one of the highest rated vegetables on the antioxidant scale with a low GI score, which means that their natural sugars are released slowly.
Serves 4
500g sweet potato, peeled and cut into 2cm cubes
2 tbsp olive or coconut oil
200g kale
1 red onion, thinly sliced
2 large garlic cloves, crushed
300g oyster or chestnut mushrooms, sliced
1 red finger chilli, deseeded and finely chopped
½ tsp smoked paprika
2 spring onions, finely sliced
6 medium eggs, beaten
handful of roughly chopped parsley, to serve
Heat the oven to 180°C (160°C fan oven) / gas mark 4.
Season the the sweet potato with salt and black pepper and roast in 1 tablespoon of oil for about 30 minutes, until caramelised around the edges. Leave the oven on.
Wash the kale, de-stem and steam for 5 minutes, then squeeze dry.
Gently fry the onion in a splash of olive oil in an ovenproof, non-stick frying pan for 5 minutes until soft.
Add the crushed garlic and mushrooms and cook for 3 minutes, then add the chilli, paprika and spring onions. Briefly cook, coating the vegetables in the spice. Stir in the kale and sweet potato.
Pour in the beaten egg, seasoned with salt and black pepper, and fold through the vegetable mixture. Cook over a gentle heat for 7-8 minutes, then put into the oven for 5 minutes until set and turning golden on top.
Turn the frittata out onto a flat plate and then flip it over again. Scatter with plenty of parsley and serve with a green salad.
---
KALE AND CHICKPEA CURRY
Preparation 30 minutes. Cooking 45 minutes.
This is one of the most frequently cooked recipes in my home and at the cookery school at Perch Hill. It's perfect January comfort food – quick and easy and packed full of nutritious ingredients. Serve with red rice, which is high in antioxidants, or the nutty black variety, and a dollop of cucumber raita on the side. Like many curries, the flavour improves overnight, so make a big batch and go back to it the following day.
Serves 8
1 large onion, finely chopped
3 garlic cloves, finely chopped
a little coconut oil
1 heaped tsp medium curry powder
25g fresh ginger, grated
2 green chillies, or 1 red finger chilli, finely chopped
500g tinned chickpeas, drained, or 250g dried chickpeas, soaked overnight and simmered for about 40 minutes
400ml tin coconut milk
250g button mushrooms, halved
juice of 1 lime
2 lemon grass sticks
15 medium 'Nero di Toscana' (cavolo nero) leaves
2 tbsp soy sauce
2 tbsp Thai fish sauce
large bunch of fresh coriander
In a large, heavy-based casserole, fry the onion and garlic cloves gently in the coconut oil over a medium heat until soft. Stir in the curry powder, fresh ginger and chillies, and cook for a further couple of minutes.
Next, add the drained cooked chickpeas, coconut milk, button mushrooms, lime juice and lemon grass sticks, stir well and simmer for 30 minutes.
Remove the stems from the kale and chop the leaves into strips. Steam them for 5 minutes, then stir into the chickpea mixture. Add the soy and fish sauces. Taste the mixture and then season with salt and freshly ground black pepper.
Scatter the curry with coarsely chopped coriander (use the stems that are full of flavour).
---
MASSAGED KALE, AVOCADO AND POMEGRANATE SALAD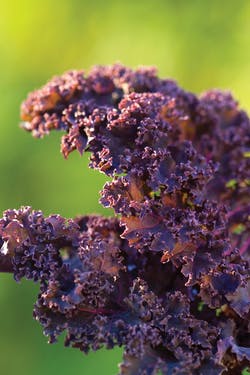 Preparation 25 minutes.
When cooked, kale loses a high proportion of its vitamin C and polyphenol content, so it's best eaten raw. This can be a challenge, so here the kale is marinated.
Serves 6 as a light lunch or starter salad
For the dressing
2 tbsp tahini
2 tbsp natural yogurt
2 tbsp tamari (or soy sauce)
2 tbsp extra-virgin olive oil
1 garlic clove, finely chopped
1 green finger chilli, deseeded and finely chopped (optional)
juice and zest of 2 limes
leaves of 30g bunch of mint or basil, coarsely chopped
For the topping
2 avocados
2 tbsp lemon juice
seeds of 1 pomegranate
handful of blueberries (optional)
2 heaped tbsp pine nuts or pumpkin seeds, toasted
Put the dressing ingredients into a mug and whisk with a fork – you don't need salt.
Strip the kale off its stems and slice into fine strips. Put the leaves into a large bowl and discard the stems.
Pour the dressing over the kale and massage it in for 3 or 4 minutes, so the leaves wilt.
Chop the avocado and toss in lemon juice. Scatter over the kale, then sprinkle with seeds, nuts and berries. Serve before the avocado discolours.