Rhubarb upside down cake
Written by:

Sarah Raven

Last updated: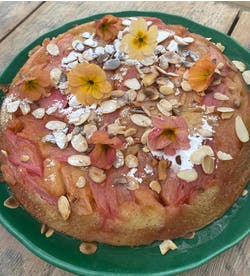 This treacly and delicious cake looks and tastes fantastic
Serves 6-8
480g rhubarb
60g soft brown sugar
60g butter
Grated zest of 1 orange
125g unsalted butter
175g caster sugar
3 eggs
175g flour
1 tsp baking powder
½ tsp salt
1 tbsp milk
Toasted flaked almonds
Icing sugar, for dusting
Crème fraîche and demerara sugar, to serve
Method
Preheat the oven to 180°C.
Cut the rhubarb at an angle into slices about 5cm long. Melt the brown sugar with the butter in a 26cm frying pan with an ovenproof or removable handle.
Add the orange zest and remove from the heat. Cover the base of the pan with the rhubarb.
Cream the butter and sugar until whitish. Gradually add the eggs, one at a time, while still beating.
Sift the flour, baking powder and salt, and fold into the mixture. Add the milk and mix well.
Spread the mixture over the rhubarb with a spatula.
Bake in the preheated oven for about 30 minutes, until the cake mixture is firm to the touch.
Leave to cool for about 20 minutes in the pan and then invert on to a large flat serving plate.
Decorate with icing sugar, toasted flaked almonds and edible flowers. Serve with a dollop of Crème fraîche and some demerara sugar.