planting a pelargonium pot display
Written by:

Sarah Raven

Last updated: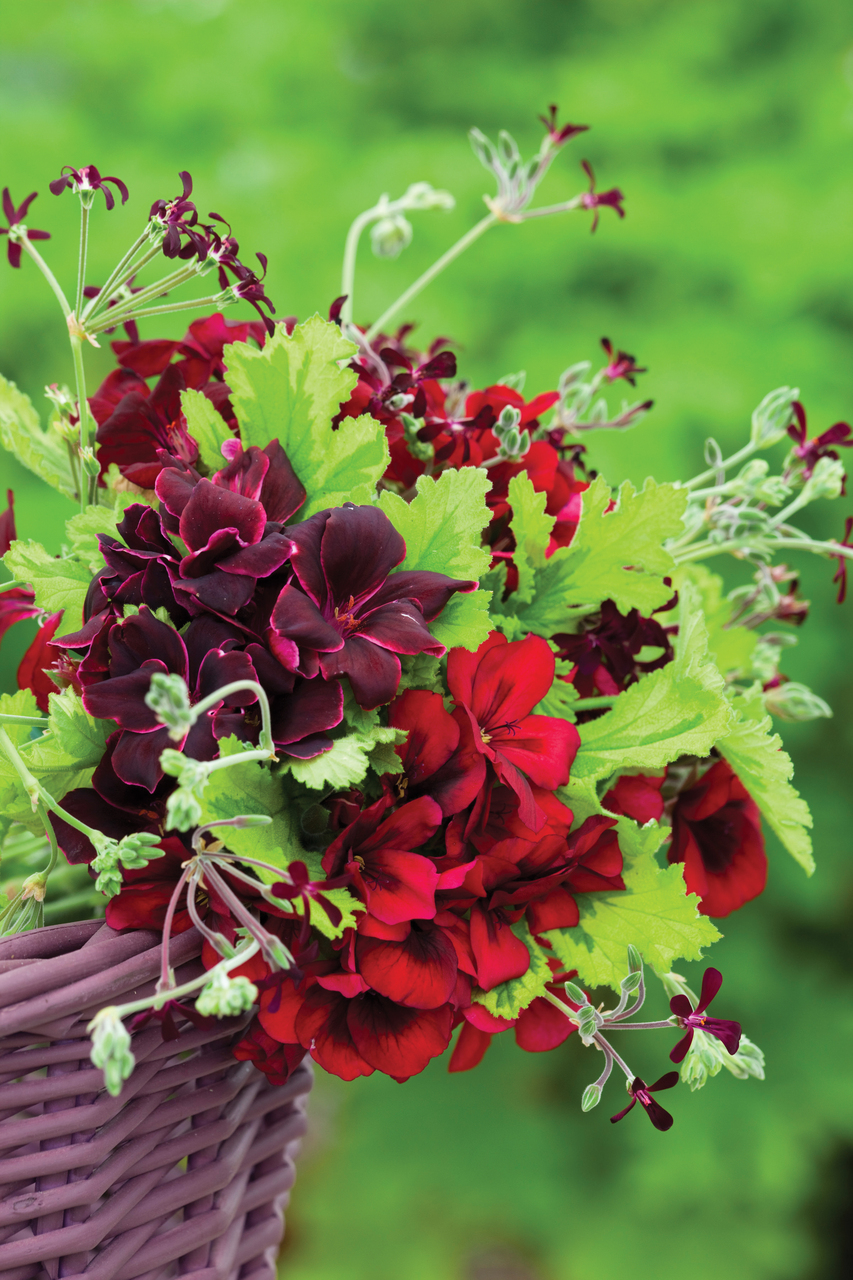 May is the time to plant up your summer pots. Tulips are going over and the frosts - for most of us - have passed, so we can safely put out any of the tender perennials and annuals that excel in containers.
My theme for this one is strong, rich Venetian colours - burgundy, mahogany, burnt orange and purple, set against deep green and silver. I want the flowers and leaves to be as rich in texture as in colour, with a soft woolliness to the foliage to back up the velvet of the blooms.
plants to create a perfect Venetian pot display
I have two favourite, rich coloured Pelargoniums. The first is Pelargonium 'Lord Bute' which has sumptuous, deep crimson, velvet flowers with handsome leaves which last until the first frosts.
The magnificent, hard-flowering, easy-to-grow ivy-leaved Pelargonium 'April Hamilton' will come into flower in late spring and continue through summer, autumn and early winter..
I have also planted a mahogany-flowered Arctotis 'Holly' bang in the middle of my large pot. The foliage compliments the leaf colour of Pelargonium 'Lord Bute' but with a contrasting broad arrowhead shape.
This is much fuller and healthier-looking than other arctotis I've tried, even through the driest summer, and its neat, richly textured and coloured flowers are magnificent.
It has been in flower in my greenhouse for at least a month already and went on well into the winter last year. It is easy to propagate, with any non-flowering sideshoot rooting quickly in a gritty mix of compost.
The final splash of sharp colour to cut through the richness of the rest is the widely available, incredibly high-performing Verbena 'Homestead Purple'. It flowers for at least six months without a pause and here in Sussex is hardy outside. I've placed small rooted cuttings of this right round the edge of my huge pot to cascade down to ground level.
These four plants give me a rich, interesting combination that should keep me going right through until next year, when it will be time to think again.
tips for planting a summer pot
Use as big a pot as you can. Large volumes of compost will take longer to dry out and won't need to be watered so often.
Put plenty of crocks in the bottom to aid drainage, if the pot doesn't already have drainage holes, then fill the pot with a loam-based compost. This retains water and - unlike peat-based products – won't dry to dust in the heat.
Firm your plants in well and back-fill with compost, so there are no bare roots. These dry out very quickly.
Water the plants in really well, then back-fill with a bit more compost if the surface has sunk more than an inch below the plant rim.
Water and dead-head as often as you can and start a weekly feed after about a month.
Browse our range of pelargonium plants and our plant collections for pots and containers.