classic onion tart
Written by:

Sarah Raven

Last updated: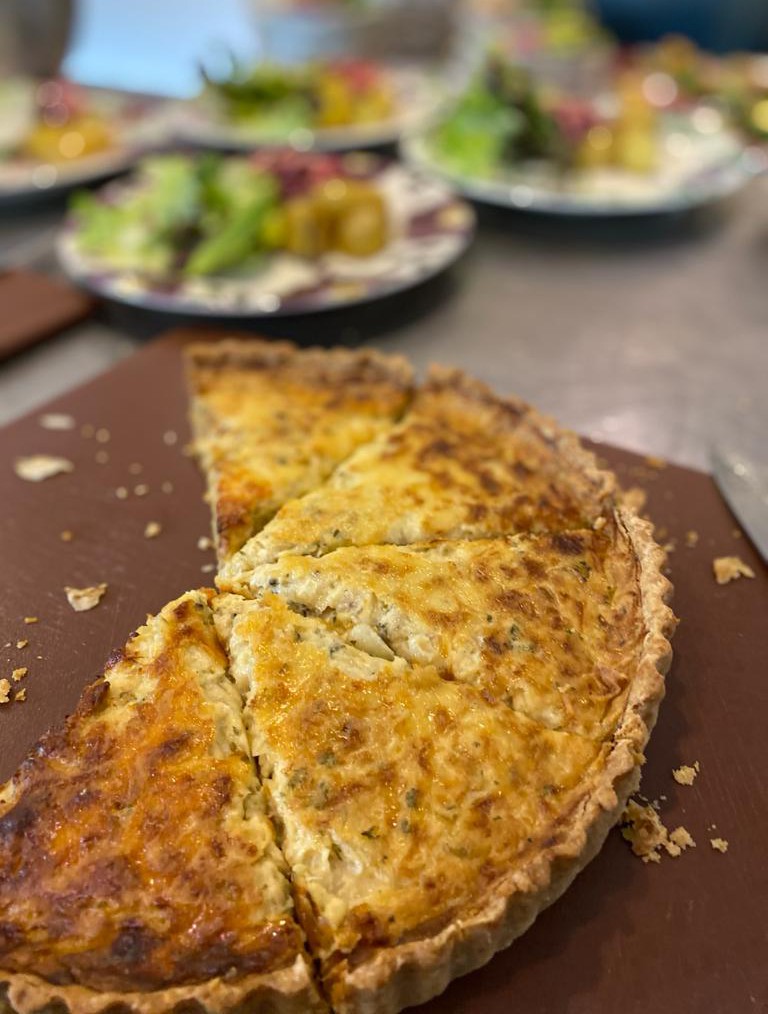 This is the most delicious tart. It has more onions than usual – and lots and lots of nutmeg.
serves 6-8
For the pastry:
180g flour
Pinch of salt
50g lard
50g butter
1 tablespoon grated Parmesan cheese
1 egg yolk
3 tablespoons cold water
For the filling:
400g (usually 3 large) onions
Knob of butter
1 dessertspoon flour
For the custard:
1 egg plus 2 extra egg yolks
150ml cream
150ml milk
Salt and black pepper
Plenty of freshly grated nutmeg
100g grated Cheddar cheese
method
Make the pastry by combining the flour, salt, lard and butter, and pulsing in a processor or rubbing the flour and salt into the lard and butter by hand, until it resembles breadcrumbs.
Add the grated Parmesan, and mix well. Beat the egg yolk with a little cold water, and then add this to the flour mixture. Use just enough to make a soft smooth dough that will hold together in a ball.
Roll out the pastry on a floured surface and use to line a 22cm tart tin. Put it in the fridge for 30 minutes to rest.
Preheat the oven to 200ºC/gas mark 6. Prick the bottom of the tart all over with a fork, cover with a round of greaseproof paper or foil and weight it down with some baking beans or rice.
Bake the tart case blind in the preheated oven for about 15 minutes. Take from the oven. Remove the beans or rice and the paper or foil and let the tart base cool. Turn off the oven.
To make the filling, slice the onions thinly (a food processor is good for this, using the fine blade). Melt the knob of butter, add the onions and give them a good stir.
Cook them gently on the lowest possible heat for as long as it takes for them to soften and caramelise a little, stirring occasionally. This can take upwards of an hour.
If you want to speed things up, turn the heat up and stir them more frequently to stop them catching.
When they are soft and slightly caramelised, turn off the heat and stir in a level tablespoonful of flour.
Towards the end of this process, preheat the oven again to 180–190ºC/gas mark 4–5.
Make the custard by beating or processing all the ingredients together, but leaving 30g of the grated cheese. Then stir in the cooked onions with a fork and spread the mixture over the tart case.
Scatter the reserved cheese over the top to make it lovely and brown. Bake in the preheated oven for about 30 minutes.