marinated cucumber and dill salad recipe
Written by:

Sarah Raven

Last updated: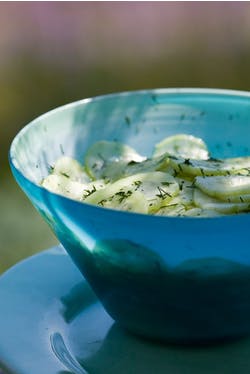 This is a recipe from my friend Lucinda Fraser, and it's fantastic for making in large quantities when you have lots of people to lunch. It's at its most delicious eaten fresh, but it's fine made the day before.
serves 4-6
1 large cucumber
100ml rice wine vinegar
110g caster sugar
Good bunch of dill
Salt and black pepper
Peel the cucumber and slice it as thinly as possible. (If you have one, use a mandoline or the slicing disc on a food processor.) Remove the seeds only if there are lots of large one, but you must remove the skin.
Heat the vinegar in a small pan over a low heat and stir in the sugar until it has dissolved. Allow to cool.
Finely chop the dill. Layer a quarter of the cucumber in a small high-sided dish and season. Sprinkle a quarter of the dill over the cucumber. Repeat the layers.
Pour over the vinegar, cover and leave for at least an hour.
Drain the liquid (of which there will be lots) before you eat.
This recipe features in p.195 of Sarah Raven's Garden Cookbook.